Dr Mailliez had been driving home after a party the night of the accident when the sight of smoking Mercedes caught his attention.
"I walked toward the wreckage. I opened the door, and I looked inside," Dr Mailiez recounts.
"Four people, two of them were apparently dead, no reaction, no breathing, and the two others, on the right side, were living but in severe condition.
"The front passenger was screaming, he was breathing. He could wait a few minutes. And the female passenger, the young lady, was on her knees on the floor of the Mercedes, she had her head down. She had difficulty breathing. She needed quick assistance.
"She was unconscious," he continued. "Thanks to my respiratory bag […] she regained a little bit more energy, but she couldn't say anything."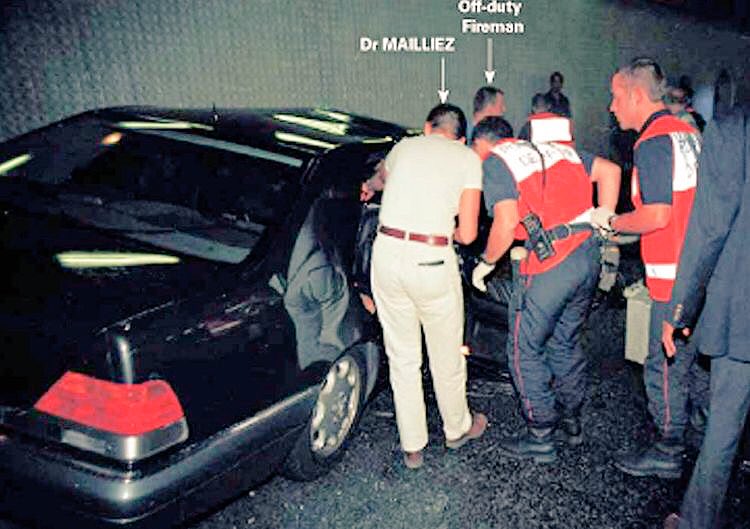 As Dr Mailiez attempted to provide Diana medical attention he was soon met with the flashing lights of the paparazzi swarming at the scene.
"All around her, there were photographers who were machine-gunning [taking rapid-fire photographs]. They were only a few centimetres from her face, taking her picture from every angle," he said.
French newspaper Le Parisien, which published one of the first detailed reports of the early morning car crash described the horrific scene as such: "Diana's body was pulled out from the totalled car as firefighters and Dr Mailiez attempted to give her first aid, just learning that the dying woman was the Princess of Wales".
"It was a massive shock to learn that she was Princess Diana, and that she died," Dr Mailliez said before questioning his actions at the scene.
"Did I do everything I could to save her? Did I do correctly my job? I checked with my medical professors and I checked with police investigators," he said, with investigators agreeing there was no more he could have done.
Although the anniversary of Diana's death resurrects those memories for Dr Mailliez, he's admitted that flashbacks from that evening still come back each time he drives through the Alma tunnel.
The Flame of Liberty monument nearby has now become the memorial site in remembrance of Diana and continuously attracts tourists and fans of the late Princess who make the trip to visit the site and pay their respects.