"As Aussies we can always have a chuckle at ourselves.have a good evening.
"This was my own effort with the Sooshi Mango boys. Glad to be also joining their team, along with all the other gigs you guys have given me today."
The Sooshi Mango gang commented on Morrison's post, saying he was welcome to join the group on one condition.
"You can appoint yourself as a member of Sooshi Mango as long as we can appoint ourselves as minister of the Australian Taxation Office!," the group commented.
Morrison continued the fun in the comments section of his post, sharing another photoshopped image of himself as Cronulla Sharks player, Craig Fitzgibbon.
"Don't mind this one either. But that job is definitely filled and Fitzy is doing an awesome job. UpUpCronulla," Morrison wrote.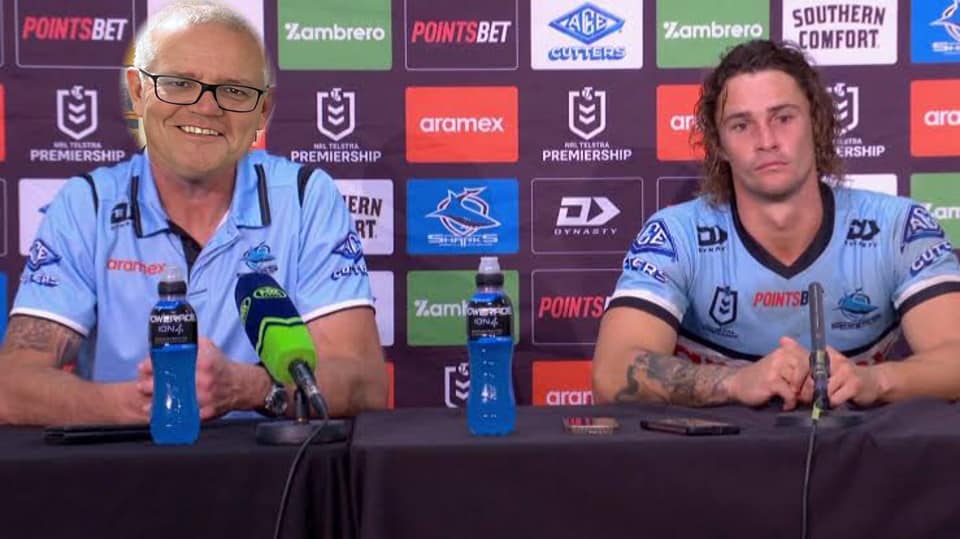 Despite the lighthearted approach to the secret portfolio saga, the former PM maintained his actions were necessary during a fiery press conference on August 17.
In his first press conference since reports emerged that Morrison appointed himself the Health, Treasury, Home Affairs, Resources, and Finance portfolios, the Member for Cook claimed his actions were "necessary" and provided him with the opportunity to "act in the national interests".
"These were extraordinary times no Prime Minister, I think, has faced the same combination of circumstances — be it the pandemic or indeed the drought, the global recession and the Australian recession caused by the pandemic and the many other natural disasters that befell the country over that period of time," Morrison told reporters.
"It was a very difficult time. It was a very unusual time. It was a very extraordinary time.
"There was a clear expectation established in the public's mind, certainly in the media's mind that I as Prime Minister was responsible, pretty much for every single thing that was going on.
"People held me, rightly, to account for that."
Several politicians such as Shadow Home Affairs Minister Karen Andrews and Senator Jacqui Lambie have led calls for Morrison's resignation.