"Start asking for better deals with cash!!" the flyer reads.
"Make your hard earned go further.
"Small steps towards big wins for all of us."
It is unclear how many people around the country are involved with this "protest" and which cities will be affected. But the social media posts have clocked hundreds of shares and comments on both Facebook and Twitter.
One Facebook user said they "haven't used card for over 2 years. Everybody should continue to use cash FOREVER not just for a week."
While another added that they "pay cash all the time as much as possible. Won't shop where they won't take cash."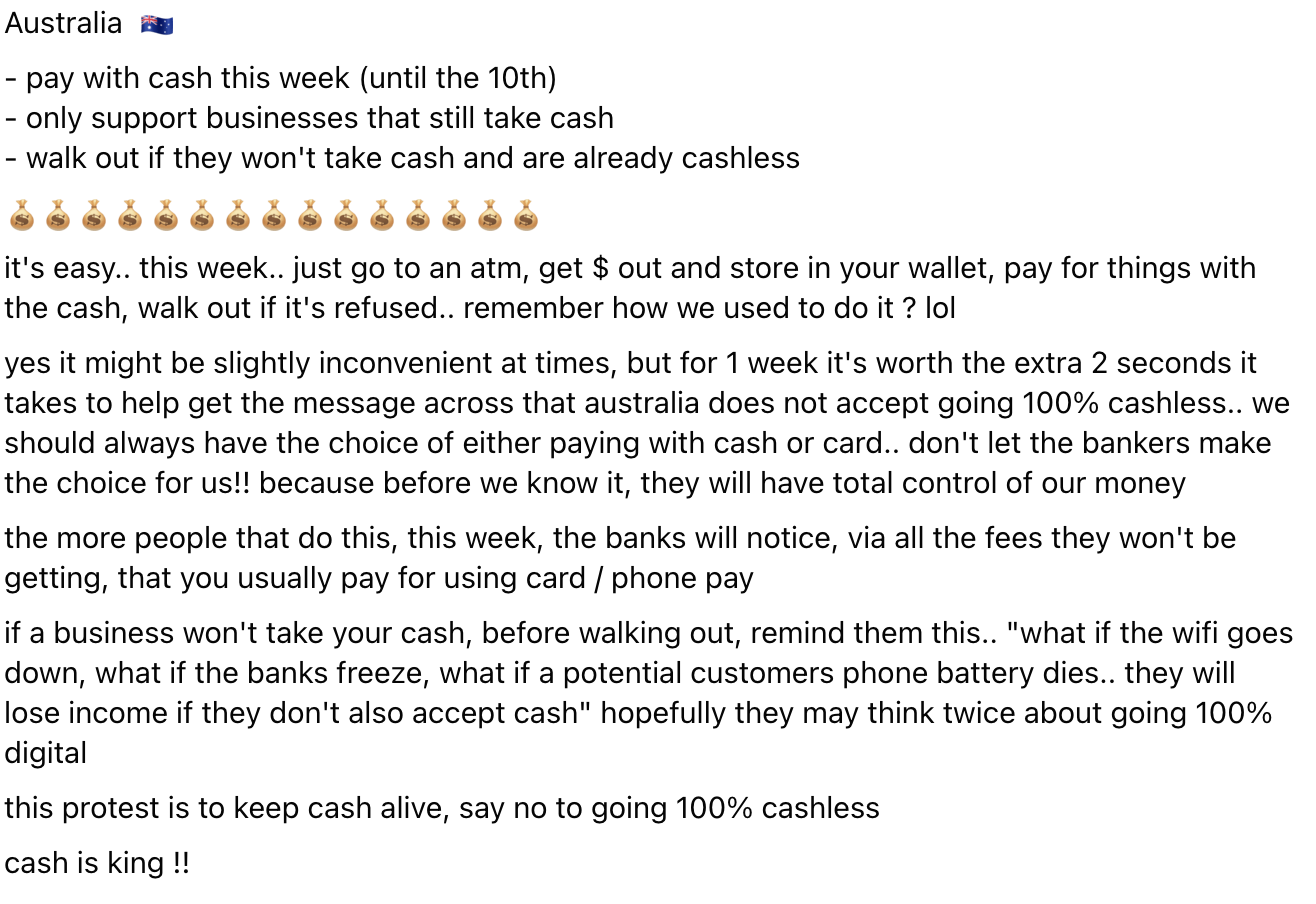 The cashless protest comes a month after it was confirmed that Treasurer Jim Chalmers has signed off plans to phase out cheques by the end of the decade, making way for a digital revolution.
Chalmers told the Australian Banking Association  that the current paper-based system was  "clunky, inefficient, and cumbersome to maintain."
Chalmers argued that the country's current infrastructure and regulations have lagged behind the rapid changes in finance, especially in the digital economy and payments.
"Our plan for payments is about a lot more than triaging the problems we face now or playing catch-up and patch-up," Chalmers said.
Cheque usage has experienced a significant decline of 90 per cent in the last decade. During its peak in the early 1980s, cheques represented 85 per cent of non-cash payments.
"Currently, 98 per cent of retail cheques could be serviced through internet or mobile banking and 100 per cent of those used in institutional and commercial settings," he said.
"All this means that leaving cheques in the system is an increasingly costly way of servicing a declining fraction of payments. That's why we want to systemically transition these transactions to digital, improving the efficiency of your sector and getting Australians their money faster."
Last year, it was revealed the number of ATMs and in-store banks is decreasing rapidly as Australian society makes the steady switch to predominantly online transactions.
NSW alone is short 140 in-store banks and almost 300 suburbs are without access to a single ATM, with Victoria also having closed its doors to almost 120 bank branches.
According to a statement from Finance Sector Union National Secretary, Julia Angrisano, the massive number of bank branch and ATM closures has inflicted serious damage on local communities.
"Closures have a devastating impact on local communities," said Angrisano.
"Jobs are lost, business is impacted, and another local service disappears."
While 80 per cent of Australians prefer to manage their banking online, that leaves the unresolved 20 per cent without an easily-accessible option to withdraw cash.