"One of the endearing things about Olivia was her love of animals," Easterling recalled.
"And it was reciprocal. And you walk into the forest with Olivia, I mean, the deer come out, the foxes come out, the trees fill with chirping birds, but she truly had an affinity for all living creatures.
"I carry and feel Olivia's presence, her sense of humour and spirit of adventure, the commonality of purpose we shared, and that gives me the strength to carry on until I find her again in that ultimate space of love and light.
"Every day we expressed our gratitude for this love that could be so deep, so real, so natural. We never had to work on it. We were in awe of this great mystery and just accepted the experience of our love is past, present and forever.
"She was the most courageous woman I've ever met. And her bandwidth for genuinely caring about people, about animals, about creatures of all kinds, eclipses almost what is humanly possible.
"At her most difficult times, she always had the spirit, the humour and the will power to move things into the light. And as her spirit soars the pain in my heart is healed by the joy of her love and that love that shines forward. Onward Ho."
Following Easterling's emotional speech, Newton-John's daughter, Chloe Lattanzi, took to the stage to remember her mother, revealing that her "heart is broken in two".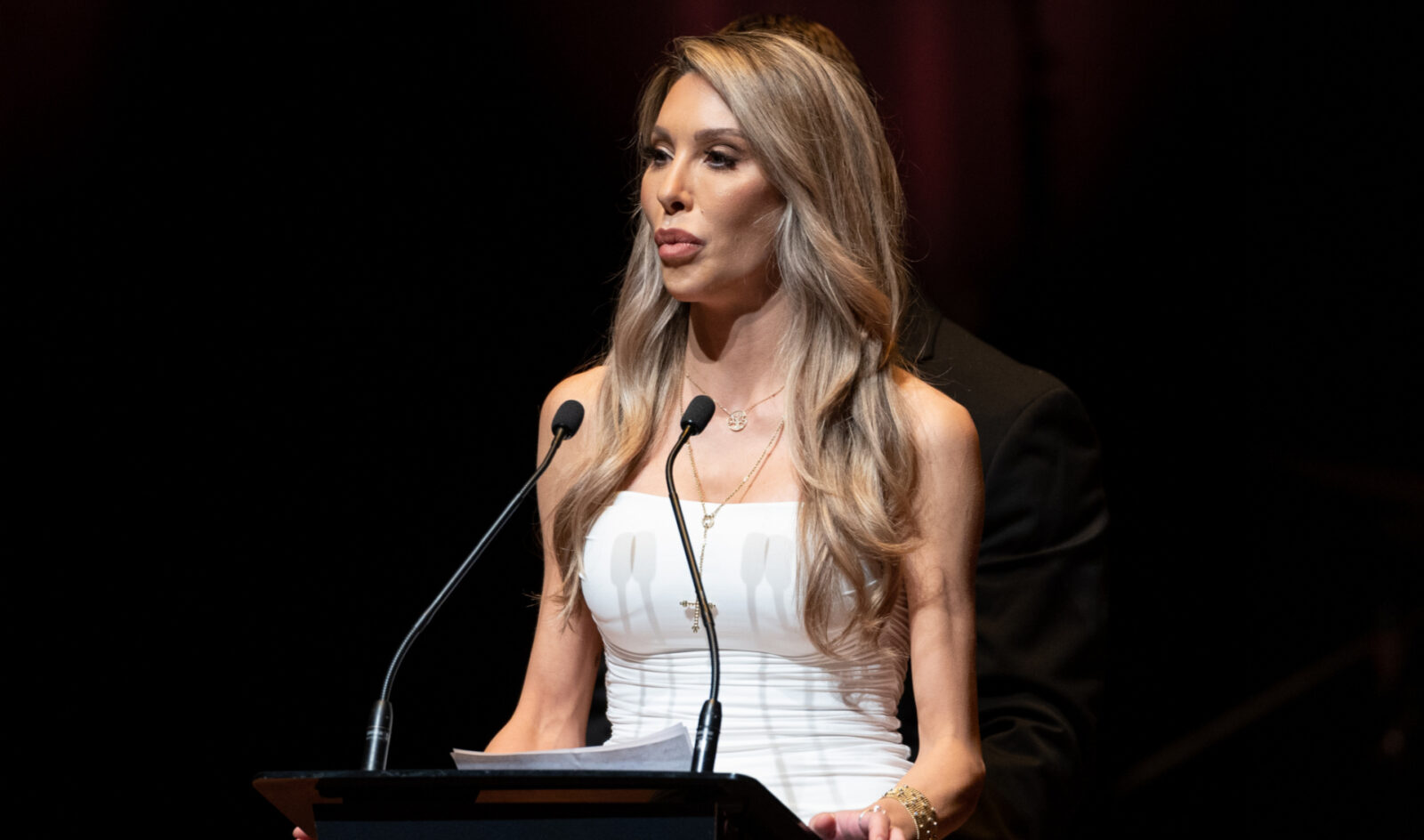 "I'm speaking here for my mother," Lattanzi began.
"My heart is broken in two. The other half is with my Mama. I know she is holding it for me until we meet again.
"She was my safe space, my guide, my biggest fan and the earth beneath my feet.
"I know she is here, standing beside me and within me. I can hear her voice, 'You are safe, my darling, don't be afraid. You're so much stronger than you think. Speak from your heart, that's all you have to do.'
"My mum could find the beauty in everything. My favourite thing to do was watch her watching the birds and the flowers.
"Smelling her roses and the joy it brought to her face was a thing of beauty. I loved making her tea and then making it five times again until I got it right.
"I loved how she loved fully and completely. And I know that she would want me to tell each and every one of you how grateful she was for each individual special relationship.
"She cherished her friends and her family and she was so grateful to her fans and she loved you all so dearly.
"She would want us all to laugh and reminisce together in joy, and celebrate her life. This life experience is temporary and my mother is the perfect example of a life truly lived."
In addition to Easterling and Lattanzi's moving words, a sea of well-known stars reflected on Newton-John's life and career while recalling some of the special memories they shared with the Grease star.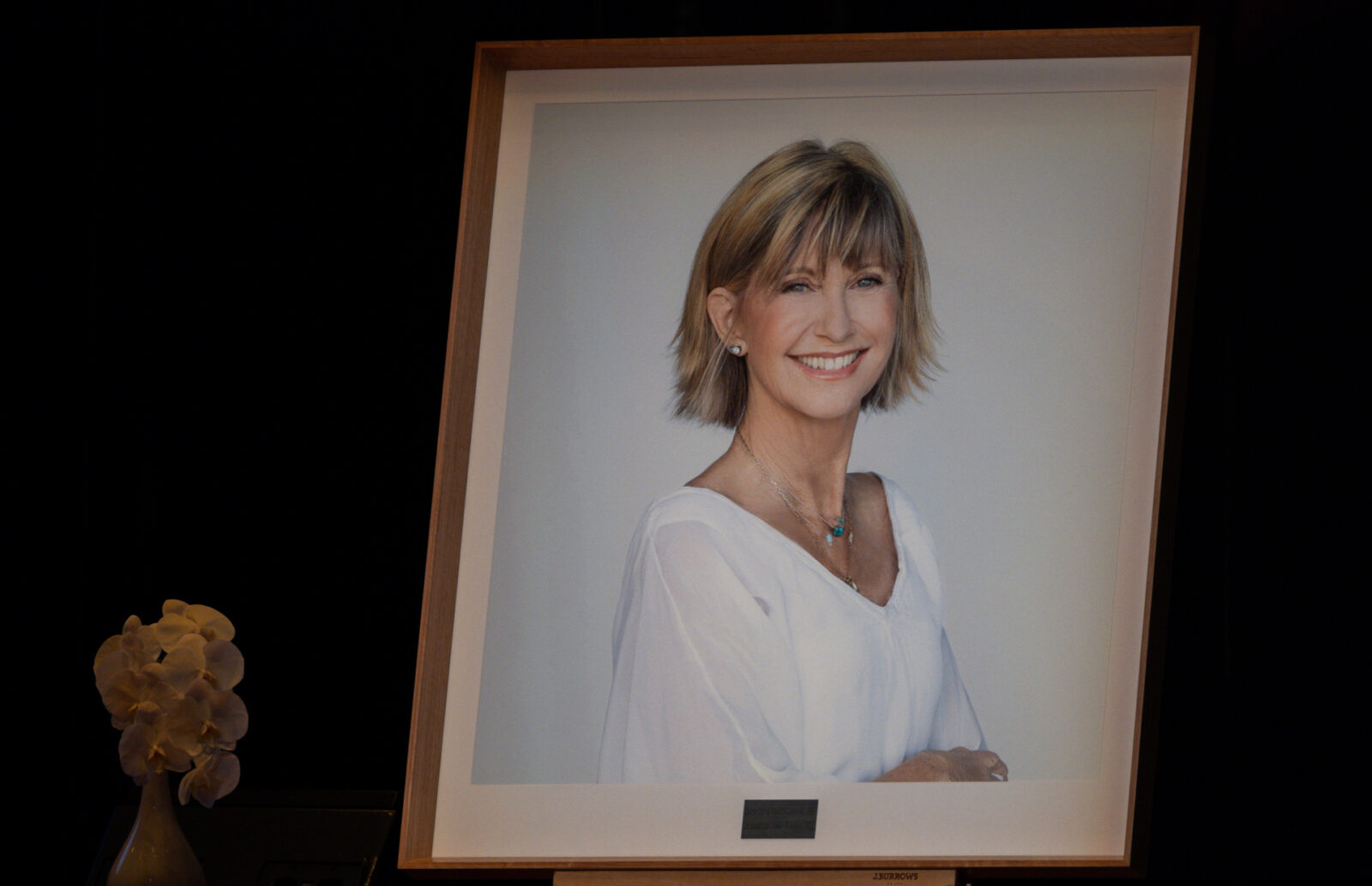 Beloved county music star Dolly Parton said that "the world lost one of its greatest talents" via a video message shown during the ceremony.
"I know it's especially painful for all the folks there in Australia since she is one of your own," Parton continued.
"As a country you should be very proud and know that the whole world mourns with you. Now, I had the honour of singing with her several times. I consider her a great friend as well as a fellow entertainer. Olivia, to quote one of your songs, I honestly love you. And thank you for shining your light on us."
Singing sensation Elton John said Newton-John was someone that he "always looked forward to seeing".
"She was such a wonderful force of nature but she was funny, she was kind, she was warm and she was talented and every time we got together we laughed and laughed and laughed," John said.
"The ONJ centre in Melbourne is a testament to what she did for so many millions of people. She fought her disease with the most incredible courage and a bravery which stays with me forever.
"She was never down, she was always optimistic, she was fun, she was beautiful, she was kind. Those kind of people don't come along very often, so we should treasure her memory and never forget what she gave the world."
Fellow Australian superstar Hugh Jackman revealed that he was left "starstruck" when first meeting Newton-John after being introduced by John Travolta.
"I finally after weeks got the courage to tell John that when I was in fifth or sixth grade I had a poster of Olivia Newton-John on my wall which I would kiss every single night," Jackman recalled.
"He had a little laugh and about a week later said, 'By the way, I've got a little gift for you. Have you got a second it's in my trailer'.
"I went into his trailer, which is like the Four Seasons by the way, that trailer. I walked in and sitting there at the table was Olivia Newton-John."
Jackman revealed that he "just stood there" in complete surprise.
"I can't remember all the things I said to Olivia, I told her about the poster, me kissing it every night, I could see her eyes glazed over and say to John, 'Get this butter ball out of here,'" Jackman said.
"I think I left soon after but it was a big moment for me."
Newton-John passed away following a long battle with cancer on August 8, 2022.
The Grease star died peacefully surrounded by her family at her Southern California ranch, according to her husband John Easterling who announced her passing via social media at the time.