The turning point
Hadley's high profile career has earned him countless accolades and made him a wealthy man, but his success and high-stress role came with a hefty price on his physical and mental wellbeing. A non-existent exercise regime paired with fair too frequent full English breakfast's and almost a full loaf of bread daily, it was only a matter of time before it took its toll. When Hadley finally stepped into his GP's office last September, the reality became clear with a stark warning from his doctor.
"[I'd eat] whatever I could fit on my plate," he told Men's Health. When dining out, entree-main-dessert was standard practice. But it wasn't just physical, there was an element of surrender involved, too. "Guys my age, from the age of 50 or 60 – I'm 66 now – you just give up a bit, I suppose.
"My lifestyle had to change. I've been talking about men's health for a long time on my program – about blokes not getting heart-health checks, not getting skin checks or the prostrate examination. And I've done all those things and more for the last 20 years. But despite that, the weight was going to be a significant factor unless I lost a bit of it."
Six months out from Hadley's wedding to Sophie Baird, he decided it was time to start fighting again. His doctor referred him to a weight-loss coach who analysed a stack of data including his BMI, body composition and bone density, which Hadley told Men's Health gave some interesting results, including that his body was functioning at the same rate as someone in their 80s.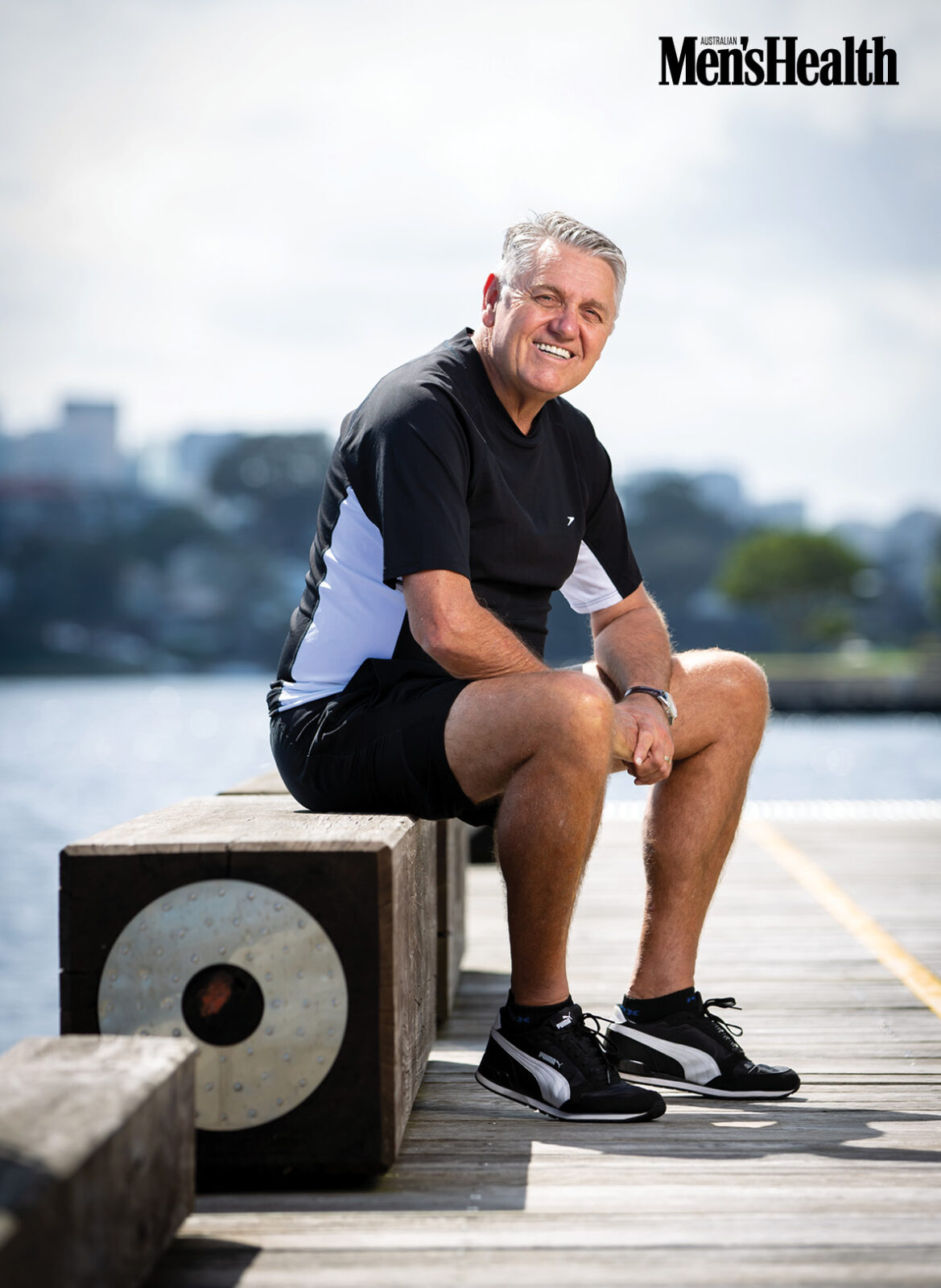 Daily walks and no English breakfasts
And so Hadley started the journey that would see him totally transform his life in just six months. As someone who wouldn't even walk on the golf course, Hadley introduced daily walks and soon realised just how much he enjoyed the time to think. He ditched the golf cart, started walking before he went on-air and once he finished work and was soon racking up between 60-90 kilometres per week.
"I find the walking therapeutic," he told Men's Health. "I don't wear a headset. I just find I think about things. Not always deep thoughts – maybe about the next show, my grandchildren, my wife. Other times I don't think at all. I'm just moving."
While upping his daily steps, he also overhauled his diet. While he couldn't manage the suggested 3-4 litres of water every day, he stuck to 2 litres flavoured with a hint of diet lime cordial. He switched the full English brekkie for tinned salmon on sourdough and made sure lunch and dinner became lower-carb affairs, with the evening meal brought forward to extend the overnight fast.
When Hadley walked down the aisle on March 27 this year, he'd not only lost 18kg (weighing in at 96.5kg) he'd also managed to lower his blood pressure from 160/95 to 128/80, which allowed him to get off antihypertensive medication. Hadley said the acknowledgement he'd received from wedding guests made it all worthwhile. "It was, 'Jesus, where's the rest of you?'" he recalls. "And that acknowledgement makes you feel good about doing it."
A new wife and 3.5 grandchildren
After spending much of his life an "unhappy person", Hadley says there's been a real temperament change over the last few years. A mental shift is common with dramatic weight loss, but for Hadley, he said his attitude had already shifted and it wasn't the result of his weight or health – instead it's something he credits to his wife and grandchildren.
"Just being with her calms you down," Hadley said of wife Sophie. Around the same time he got together with Sophie, his first grandchild, Ava, was born. Two more, Noah and Ella-Rae, have followed, and now there's another one on the way.
"Look, without going into the details – they're very personal – I was a very unhappy person for a long time," he told Men's Health. "I'm not blaming anyone for my unhappiness, but I was very unhappy. Professionally, I was happy, but personally, I was very unhappy, without knowing I was unhappy or why.
"I'm in a high-powered job. I'm expected to perform every day, and sometimes you lose sight of your priorities. You're not doing what you should be doing in relation to yourself or your family. I'm not very good at giving advice – I'm even worse at taking it. But if I were giving advice to men … one of the things I note with younger men these days is that they seem to apportion much more time to their children and partners than I did. This generation seems to prioritise the right things. Yes, they're ambitious and want to succeed, but they don't sacrifice their families for their ambitions. And that's a great thing."
Hadley revealed even his children have noticed his mellowing temperament, saying he's "good different", these days. The presenter says he's revelling in being a grandad – a role he thinks he's better at than being a father. "Because I was ambitious, I was working seven days a week," he said. "And to a certain extent I carry that a bit. It's obviously set me up pretty well and I can help them in a whole range of ways, but I wasn't around much when they were the same age as my grandchildren are now.
"But, as well as the things I've explained to you, if you get to 66 and you don't mellow, you're a mug. You can't be a cranky bastard all your life."