"I don't have much of a choice in that but in the meantime, I'm going to make hay while the sun shines."
While Parton has no plans to hang up the mic altogether, she has stepped away from the hustle and bustle that comes with live tours.
"I'm not touring anymore but I will continue to do special shows here and there now and then like a long weekend or festival shows," she said.
"But as far as touring I think those days are pretty much behind me… you have to stay gone so long on a tour to make it productive and prosperous and that's a lot of time at my age – I aint' got no years to waste."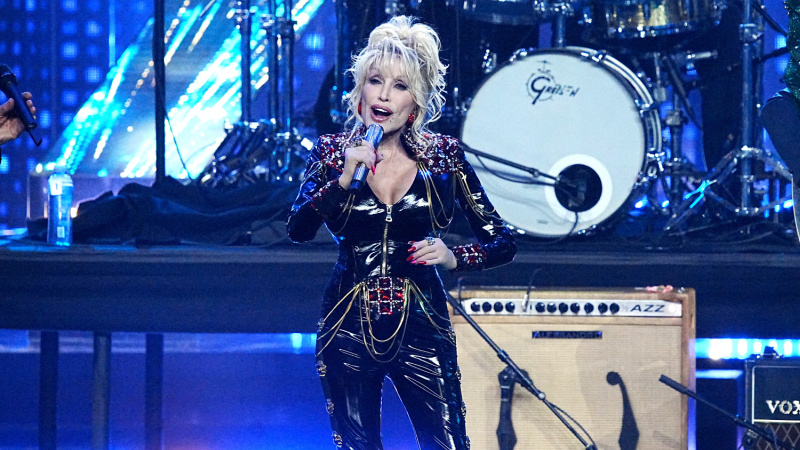 With less time spent on the road, Parton now has time to pursue other creative endeavours that interest her, such as more work in the arena of television.
"I want to have my own story called The Life of Many Colours where I have a whole TV series of my life," she said.
"Stuff that people haven't seen or heard about me and where I come from and how I got to be how and who I am. The bad, the good and the ugly!
"So that's one thing I want to do and then just host more TV shows, do more movies. I want to have my own line of makeup, own line of wigs and clothes.
"Once you get to a certain place in your career you get a lot of offers and some of them are just really hard to turn down."
While the Jolene hitmaker remains steadfast in her commitment to her singing career, she previously revealed the one thing that would make her take one final bow.
During a 2017 interview with The Sun, Parton said she would only wrap up her music career if something happened to her husband, Carl Dean.
"I never want to retire . . . only if I was sick or my husband was sick and I needed to take care of him," she said.
"I just love what I do, love who I am and I love the things that I'm able to accomplish.
"I just hope my health holds up so I can carry on."
Given her immense success and incredible impact on the music industry, it is understandable that Parton has no desire to retire.
Parton's career took off in 1967 with her debut album, Hello, I'm Dolly, after finding success as a songwriter for other performers. Throughout the 1960s and into the 1970s, she achieved remarkable sales and chart success as a solo artist and through duets with Porter Wagoner.
She achieved commercial success in the 1970s and 1980s, although her albums in the 1990s did not perform as well. However, she made a triumphant return to commercial success in the new millennium, releasing albums on various independent labels, including her own Dolly Records.
She is one of the best-selling female artists of all time. Parton's extensive discography includes numerous gold, platinum, and multi-platinum albums certified by the Recording Industry Association of America (RIAA). She holds the record for the most number-one singles on the Billboard country music charts by a female artist, tied with Reba McEntire, and has an impressive 44 Top 10 country albums, a record for any artist. With over 110 career-charted singles, Parton has solidified her position as one of the most prolific songwriters in the industry, penning classics such as I Will Always Love You, Jolene, Coat of Many Colors, and 9 to 5.
Beyond music, Parton has also left her mark as an actress, starring in notable films like 9 to 5, The Best Little Whorehouse in Texas, and Steel Magnolias, earning her Golden Globe nominations for Best Actress. Her talents have garnered recognition and accolades across various award ceremonies, including 11 Grammy Awards out of 50 nominations, 10 Country Music Association Awards (including Entertainer of the Year), five Academy of Country Music Awards (including Entertainer of the Year), four People's Choice Awards, and three American Music Awards. Additionally, she received the Country Music Hall of Fame induction in 1999, the National Medal of Arts in 2005, and accepted a nomination for and was ultimately inducted into the Rock and Roll Hall of Fame in 2022.