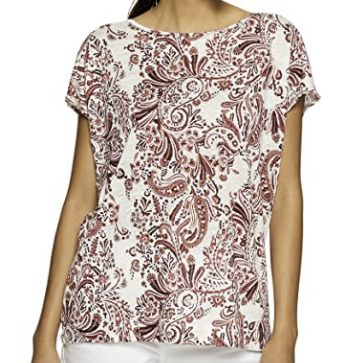 We love the Jag Women's Valentina Linen top available for purchase on Amazon Australia. It has a pop of colour with a pink pattern, and has a relaxed and comfy fit – because you don't want anything too tight when the weather starts to get warm! It will cost you $59.95 on the online platform, but it's such great quality that it will last you a while!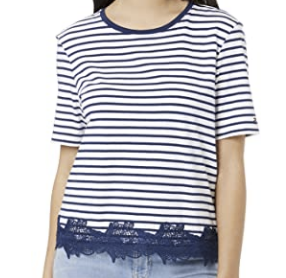 Another favourite is the Tommy Hilfiger striped t-shirt. It's basic, so can be worn during the day with a pair of jeans or shorts, but is a little more dressy than other options due to the pretty flower lace hem. It will cost you $48.97 on Amazon Australia and you'll have peace of mind knowing if it doesn't fit or isn't your style you can send it back for free. 
Blouses
With the weather slowly warming up it's time to opt for something lighter and more breathable than those big jackets and coats. But, we still want to look stylish as well – even if we're spending lots of time at home!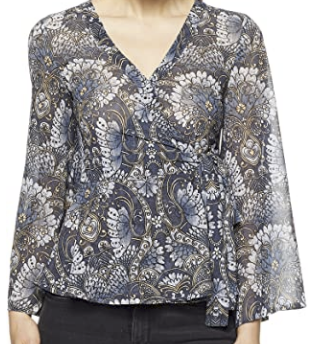 Every woman needs some pretty blouses to add to the clothing collection, and the Ministry of Style Women's Marakesh Top is a gorgeous choice. It has a v-neckline and flowy sleeves for extra comfort and features a beautiful blue print. It would go perfectly with a pair of black pants with some flats, or heels for a dressier look. You'll pay just $48.95 for this top from Amazon Australia.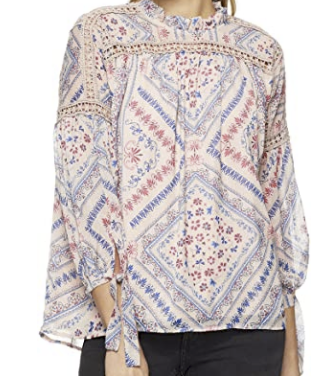 Alternatively, for a softer colour scheme the Three of Something Women's Fortune Judicious Blouse is a gorgeous option. It comes in a pretty light pink colour with patterns in blue, purple and darker pink. Unlike the other blouse it has a looser, oversized fit – perfect for those days when you want to eat a big lunch. This beautiful top is $64.46 on Amazon Australia.
Hats
The sun is finally shining again and we can all get some much-needed Vitamin D after hiding from the cold inside for many months. But, you know what else that means? We need to think about protecting our skin.
As we get older our skin becomes more fragile and sunscreen and hats are essential. Now, you may not consider yourself a "hat person" but there are some stylish options available that we think would look great on anyone – and they're available on Amazon Australia.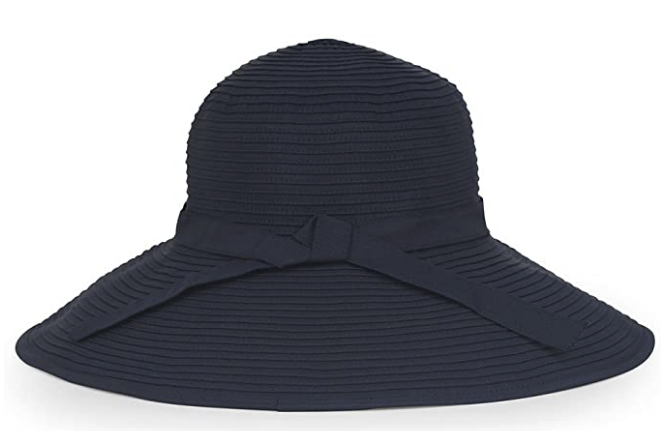 Big, wide-brim hats are especially popular right now, and the Sunday Afternoons brand has one that comes in various colours and can match with different outfits. It has a pretty ribbon tie which you can tighten on those windy days out exploring and it packs easily in a bag for when you can get away on a quick holiday. Plus, it's very affordable, costing $39.99.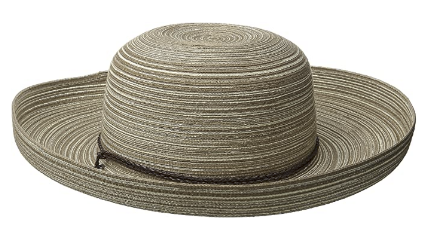 If you don't want anything quite so big, then the San Diego Hat Company's Mixed Braid Kettle Brim hat may be the better option. It's not as wide as the other hat, yet still offers great protection from the sun. It comes in beige which is great for those who don't like to wear bright colours and costs $37.62.
Sunglasses
Another part of our body that we need to protect from the sun is our eyes. As over-60s you may already have experienced some issues with your eyes, so sunglasses are essential if you're going to be outside for prolonged periods.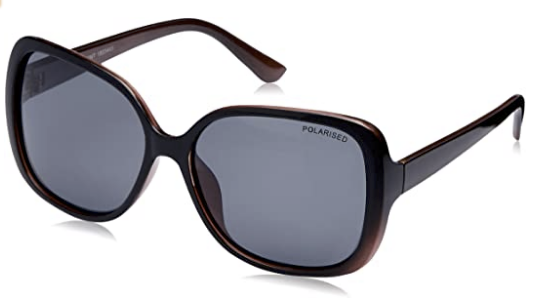 On Amazon Australia you'll find a whole collection of sunglasses but for ultimate protection (and style) you can't go past the Cancer Council brand. They have high protection against sun glare and look great! The Pyrmont sunglasses are our top pick and have also received a rating of 4.5 out of five from happy customers. The large square frames are very fashionable, but not over the top – like the sunglasses you see some teenagers wearing – and are fairly cheap at just $39.95.
But, if you find those are just not your style then check out the Izipizi Sun Collection tortoise sunglasses. They have a smaller more rounded frame with flexible and comfortable arms to adapt to all face shapes and sizes. Plus they protect from glare and filter 100 per cent of ultraviolet rays. These stylish sunglasses will cost you $69.95 on Amazon Australia. 
Never shopped on Amazon before? Starting is simple
If you're new to online shopping on Amazon Australia, don't fret! It's easy to get started and we've even put together a simple 'how-to' guide to help you along your shopping journey.
You'll have to sign up first (which takes less than a minute!) and then it's time for the fun part! Simply use the search bar at the top of the screen to look for items that you want – this can be as generic as 'women's clothing' or as specific as a particular brand. Or, if you're just in a shopping mood and want to see what's available, you can browse through the 'Best Sellers', 'Today's Deals' and 'New Releases' to give you some inspiration.
As an Amazon Associate, Starts at 60 earns from qualifying purchases.