"Level up your self care routine with spa-worthy towels at home," her post read.
"This is the secret to getting fresh, fluffy towels at home."
According to Mila, the trick starts with setting your washing machine to between 40 and 60 degrees celsius. Then, you throw your towels in and add liquid detergent along with half a cup of plain white vinegar instead of the usual fabric softener.
"Do the wash as normal, shake the towels and let them air dry when they come out until nearly dry," she wrote.
"Then, tumble dry them for just a few minutes until they are completely dry. This will help with the softness and absorbency."
Mila explained that the reason why vinegar works so well as a substitute to fabric softener is that it "breaks down the residue from detergents leaving the towels soft and fresh".
The simple hack prompted an outpouring of praise from fellow social media users with many keen to give it a go themselves.
"Love the tip. Will definitely try it!" one user wrote.
"Trying this!!!" revealed another.
"I never use fabric softener on my towels, I notice it ruins the original texture of the towels..but thank you for this tip!"
The secret to fluffy towels isn't the only laundry hack that has taken the public by storm after an Aussie grandmother became a viral sensation after a TikTok video of her folding a fitted sheet with relative ease was shared on social media.
TikTok user amymaree922 shared the video of her mother's genius hack for perfectly folding the notoriously tricky item.
"Thanks mum for the tip on how to fold the fitted sheet!" Amy wrote.
The video shows a purple fitted sheet spread across a classic Hills Hoist clothesline as the grandmother turns each side in until it's folded neatly on the line.
Filmed to the comically classical tunes of Kevin McLeod's "Monkeys Spinning Monkeys", the grandmother then cautiously slides it off the clothes line, making an effort to keep the perfectly formed shape.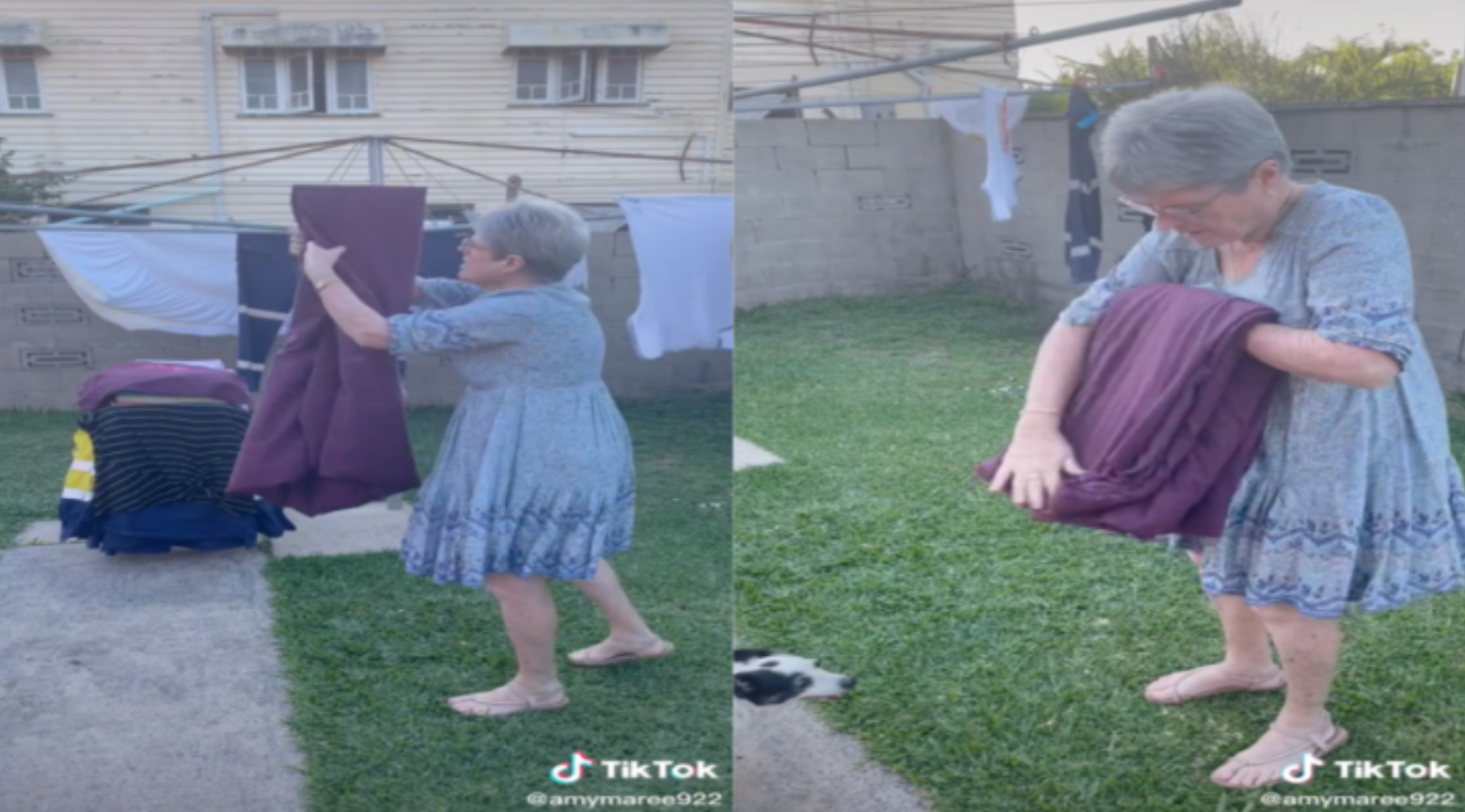 She then folds the sheet over several times until she is left with an immaculate square.