This means that an average of one Australian dies as a result of heart disease every 28 minutes. Furthermore, $1.5 billion was spent providing healthcare services to patients admitted with heart disease between 2012 and 2013, while it was the main cause of 160,438 hospitalisations in 2016 and 2017.
Still, these blood pressure and high cholesterol medications didn't make up the most expensive drugs in the country. That list was instead topped by sofosbuvir and velpatasvir – medication used to treat Hepatitis C. The data was based on figures from the Pharmaceutical Benefits Scheme and Repatriation Pharmaceutical Benefits Scheme.
"The most commonly used blood pressure and cholesterol treatments are now off patent in Australia, which means more affordable generic versions of medications are generally available," Connell explained. "In Australia, the pharmaceutical benefits scheme (PBS) keeps drug costs low by international standards."
In terms of defined daily dose of drug use, atorvastatin topped the list of most commonly used medications. Atorvastatin, also known as the brand name Lipitor, is a statin used as a lipid-lowering agent.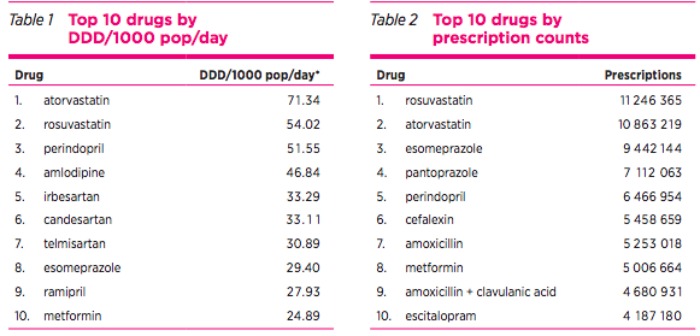 It was followed by another statin called rosuvastatin, while other high blood pressure medications perindopril, amlodipine, irbesartan, candesartan and telmisartan took the following spots. Esomeprazole, which is used to reduce stomach acid, came in eighth, while high blood pressure drug ramipril and type 2 medication metformin rounded out the list.
Read more: Price of life-saving cancer medication slashed from thousands to under $40
In terms of most prescribed medication, rosuvastatin took the top spot, followed by atorvastatin and esomeprazole. Pantoprazole, a medication used to treat stomach ulcers, took fourth spot, followed by perindopril and cephalexin, an antibiotic used to treat a number of bacterial infections.
The seventh most-prescribed medication was another antibiotic called amoxicillin, followed by Type 2 diabetes metformin and antibiotic amoxicillin/clavulanic acid. Antidepressant escitalopram rounding out the top 10.
The data also revealed the top 10 drugs by cost to the government. These medications did not include rebates. Hepatitis C treatment sofosbuvir/velpatasvir, costing the government more than $69.5 billion.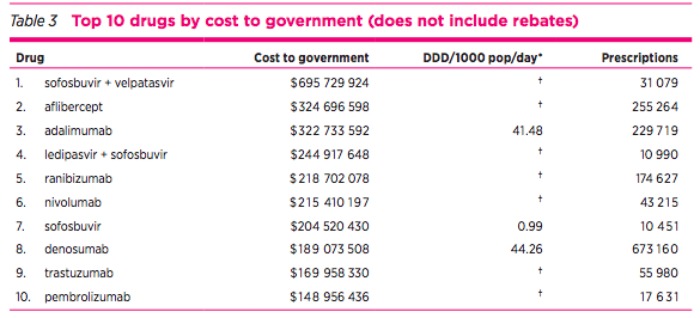 Aflibercept, a medication used to treat macular degeneration, cost $32.4 billion, while arthritis medication adalimumab came in third at a cost of more than $32.2 billion.
Ledipasvir/sofosbuvir, another hepatitis c treatment, came in next at more than $24.4 billion, while another macular degeneration treatment called ranibizumab cost the government over $21.8 billion.
Other expensive drugs included cancer treatment nivolumab ($21.5 billion), osteoporosis drug denosumab ($18.9 billion), breast cancer medication trastuzumab ($16.9 billion) and cancer immunotherapy pembrolizumab ($14.8 billion).
"It is not surprising that that majority of the top 10 used medicines in Australia are for the prevention or treatment of conditions of the heart or circulation, as heart disease continues to be the most common chronic health problem and cause of death," NPS MedicineWise CEO Steve Morris told Starts at 60. "Older Australians should have regular checks of their heart disease risk, and those on medicines should be seen regularly for review."
Read more: Australians forking out $100M on high cholesterol medication
Meanwhile, Connell added that no matter what a person's blood pressure and cholesterol reading is, a healthy lifestyle is also essential. 
"You can make positive changes by improving your diet, being active, quitting smoking and reducing your alcohol intake to improve your heart health," she added. 
Between 2014 and 2015, more than 624,800 Australians or 2.7 per cent of Australians reported that they currently had heart disease.
What are your thoughts on the findings? Do you use any of these medications?