Heartlines: The Year I Met My Other Mother, by Susannah McFarlane and Robin Luba, is a raw and honest book about the reunion of two women, one who relinquished her daughter and the other, the daughter who was relinquished.
The story is told by both women throughout the book giving their perceptions and accounts of "the facts".
Robin Leuba became pregnant to a young man, Tim, she was involved with, both university students. A baby was not in their plans, so Robin went from Perth to Melbourne and in 1965 gave birth to 'Florence' for whom she signed the adoption papers with her mother present. Florence became 'Susannah McFarlane', a much-wanted baby with an older brother. Her adoptive parents were grieving the deaths of two baby daughters. Later they had another daughter. Susannah was an angry baby and toddler, constantly questioning her mother about her 'real' mother. Eventually, she settled, accepting she was adopted and grew up in a loving and supportive family. Susannah had no wish to contact her biological mother.
Robin married Tim and had two other daughters. Eventually,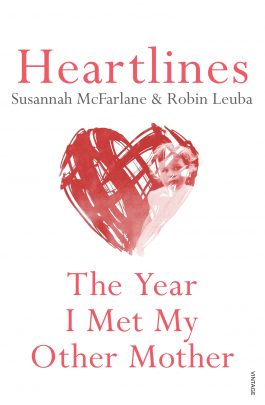 they separated. Robin was in and out of relationships, with one partner drowning. She became a Christian. In 1989 through official channels, Robin sent Susannah a letter wishing contact. Susannah had no wish to have contact, and wished her mother well and got on with her life.