Should you go to the funeral of someone you hated?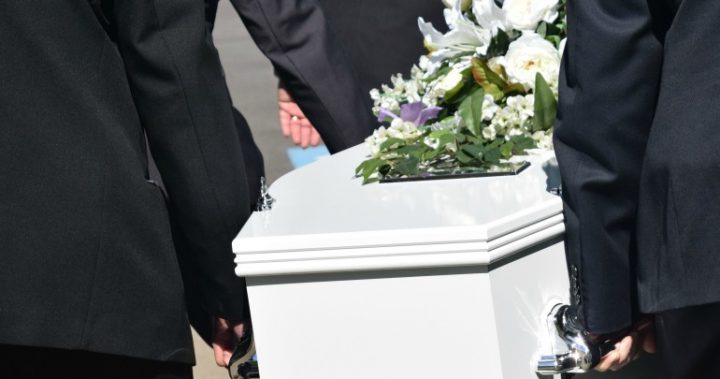 Funerals are usually a time for people to grieve the death of someone who was special to them, but is it ever inappropriate to attend a funeral?
Writing in the Sydney Morning Herald, Maani Truu explained the predicament she was put in when her ex-boyfriend suddenly passed away at the age of 25.
Despite living together for quite some time, Maani explained she hadn't been with her partner for three years and had no intention of ever reconnecting with him. She felt obligated to attend his funeral, although admitted that she would never attend one of his parties or gatherings had he still been alive.
Eventually, she decided to attend his funeral, noting that she slipped in at the very last minute to avoid awkward small talk with the family. She felt angry that she was almost forced to make peace with someone she was no longer interested in, again noting that she'd have nothing to do with her ex if he hadn't passed away. "How can you convincingly miss someone in death that while they were living you hoped to never have to see again?" she asked.
She isn't the only one who has found herself asking the question or pointing out how people change when someone passes away. A person recently took to forum website Reddit to explain their frustration that people often make someone's death about them. "A girl from my hometown was murdered last night," they wrote. "And all over Facebook people who barely knew her are talking about how devastated they are and pretending like they were her best friend. My boyfriend's fake a** cousin even blatantly lied about an interaction with her to get more sympathy for HERSELF!"
Ad. Article continues below.
An array of celebrities have been branded as fake for sharing their own sympathies online when other famous faces have passed away. In 2016, Buffy actress Sarah Michelle Gellar made headlines when she suggested she was saddened by the death of Boy George. "Do you really want to hurt me? I guess you do 2016 #ripboygeorge." It was actually George Michael who had passed away, so her hashtag made her a laughing stock.
Just as sad when you get the correct information- #ripGeorgeMichael thank you to everyone who corrected me- it's still so sad

— Sarah Michelle (@SarahMGellar) December 25, 2016
This is usually why I don't comment on public matters, but it all seemed so sad on Christmas. Lesson learned.

— Sarah Michelle (@SarahMGellar) December 26, 2016
Ad. Article continues below.
And for the record yes I completely know the difference between Boy George and George Michael- I heard incorrectly. My intentions were good

— Sarah Michelle (@SarahMGellar) December 26, 2016
More recently, Sex and the City star Sarah Jessica Parker has been feuding with her former co-star Kim Cattrall. Both have publicly acknowledged their rift, believed to have started when Kim suggested she was never friends with Sarah and that she doesn't want to be involved in a third film of the popular TV series. Earlier this week, Kim's brother tragically died, leaving her utterly heartbroken. She took to social media to initially ask people for help in finding her brother, before reporting that he had died.
Ad. Article continues below.
Sarah left Kim a public comment online that read, "Dearest Kim, my love and condolences to you and yours and Godspeed to your beloved brother". Kim acknowledged the message and thanked fans and her co-star for their kind words.
Elsewhere on a BabyCenter community forum, another confused person raised the question of funeral etiquette. "Let's say your cousin (or any family member) died," they said. "You never liked this person, they never liked you, and everyone in your family knows it. Should you attend the funeral out of respect for your cousin and support for other family members? Or would your presence appear phony [SIC]?"
Ad. Article continues below.
What do you think? Is it the right to attend a funeral of someone you hated, or is it all a bit fake? Have you ever had to go to the funeral of someone you didn't like? What made you attend?
---
With Facebook removing news sites from your feeds we ask that you sign up for Starts at 60's emailers here. And to keep us on your wall, join some of our new Facebook groups and clubs:

News Junkies Club – Australia
News Junkies Club – USA 

See news on the change and links to all our other clubs and groups here.