This hilarious grandpa is all of us discovering our real age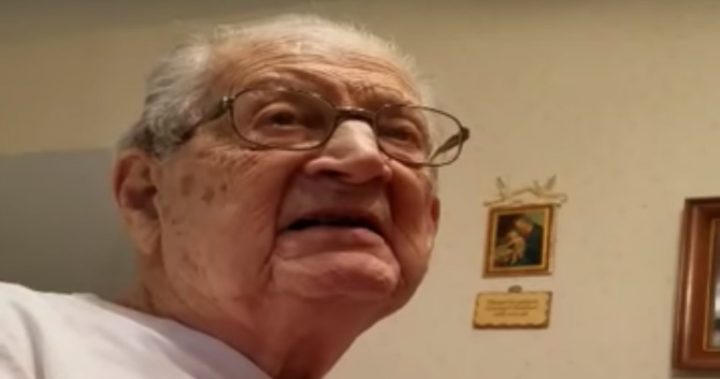 *Warning – this video contains some colourful language.
Coming to terms with your real age can be something that many people struggle with. A viral video has sent the internet into a frenzy with a beloved grandpa finding out just how old he really is.
The video, which was originally uploaded to YouTube on February 7, has been viewed more than 3.9 million times and was the top-trending clip on the video-sharing website last night.
The short clip, believed to be uploaded by the man's son, show's the 98-year-old getting a little confused when asked to give his age.
Ad. Article continues below.
"How old do you think you are?" the son can be heard asking his father. He initially informs his son that he's 79, but he's told that it's much higher.
"89? Higher than that?" he laughs as he struggles to guess his real age. He then wrongly guesses 91, 92, 93, 94, 95, 96 and 97 before he guesses correctly. Judging by the language he uses, it's clear that he's shocked. "You're a**," he tells his son. "I am not 98 years old. Holy f***. That is old."
His son can be heard laughing at his confused dad, who continues to question is age. "How did I get so old so fast?" he asks, before his son informs him that he'll be turning 99 this year.
"Am I really?" he says, sounding shocked. "I was born in 1919, what is it now?" His son informs him that it's 2018. The grandpa seems even more surprised that he'll be a century old next year. "Holy f***," he says again. "Geez, I'm gonna be an old f****** man." His son can only laugh at his father.
Ad. Article continues below.
It's not the first time a person over the age of 60 has gone viral on the internet. Footage of an adorable grandma trying to use Google's new Google Home device went viral last month when she couldn't figure out the new technology. Instead of saying "Hey Google", the Italian grandmother became frustrated when the device, designed to answer questions and complete tasks, wouldn't work when she said "Hey Goo Goo". When it did work, her reaction was priceless.
What do you think? Are you glad that over-60s have the potential to go viral online?
---
With Facebook removing news sites from your feeds we ask that you sign up for Starts at 60's emailers here. And to keep us on your wall, join some of our new Facebook groups and clubs:

News Junkies Club – Australia
News Junkies Club – USA 

See news on the change and links to all our other clubs and groups here.