Uses
Skin irritations: When used on rashes, skin blemishes, skin irritations, acne, eczema, psoriasis, and skin inflammatory conditions, the oil has been shown to alleviate a number of skin irritations and is known to be a non-irritant and generally well tolerated on sensitive skin types.
Headaches and respiratory complaints: The two major compounds in the oil may help alleviate various respiratory conditions. When diffused, it may help colds, coughs, running noses, sore throats, asthma, nasal congestion, bronchitis, and sinusitis.
Skincare: As an anti-inflammatory, the oil (when used in a cream) can reduce puffiness, redness and irritation when used in your skincare routine. Dilute and apply the oil topically to your face or body to help nourish your skin, reduce the appearance of blemishes and help speed up the healing process. Or, use kunzea cream as part of your daily routine to moisturise and reduce inflammation throughout the body.
Tick and insect repellant: This use of kunzea oil as a repellent is still being studied, however, its popular name "tick bush" comes from the fact native animals have been found sleeping under kunzea plants, in order to seek relief from ticks and other parasites. Kunzea has also been found to have benefits that are comparable to citronella.
Insect bites and stings: Given its natural anti-inflammatory properties, kunzea may help to soothe insect bites, reduce the redness and stop the itch.
Fungal and bacterial infections: Kunzea oil has been tested for its effectiveness against a number of disease-causing bacteria, and found to be particularly effective against Staphylococcus aureus.
Muscular aches and pains: Kunzea has several important compounds that work to help soothe fatigued muscles after a workout, to speed up the recovery process and promote the rapid repair of soft-tissue injuries, such as sprains and strains.
How to use it?
Kunzea oil comes from a native Australian plant, similar to the tea tree. It can help provide temporary relief from the pain of arthritis, rheumatism, muscular aches and pains, and even insect bites.
Zea Relief's kunzea range combines kunzea oil with a range of other beneficial ingredients, and comes as a balm, roll-on, essential oil or cream. It offers a double-strength formulation that quickly penetrates the skin to help any number of ailments listed above.
Kunzea Multi-Use Balm combines the natural, therapeutic benefits of Tasmanian kunzea oil, evening primrose oil and rosehip oil. With a beeswax base, this delicious balm is softly scented and has a rich consistency that will soothe, moisturise, nourish and protect your skin.
Uses: Can relieve itchy or irritated skin, hydrate dry skin, soothe tired muscles and joints, promote natural wound healing and reduce scar tissue damage.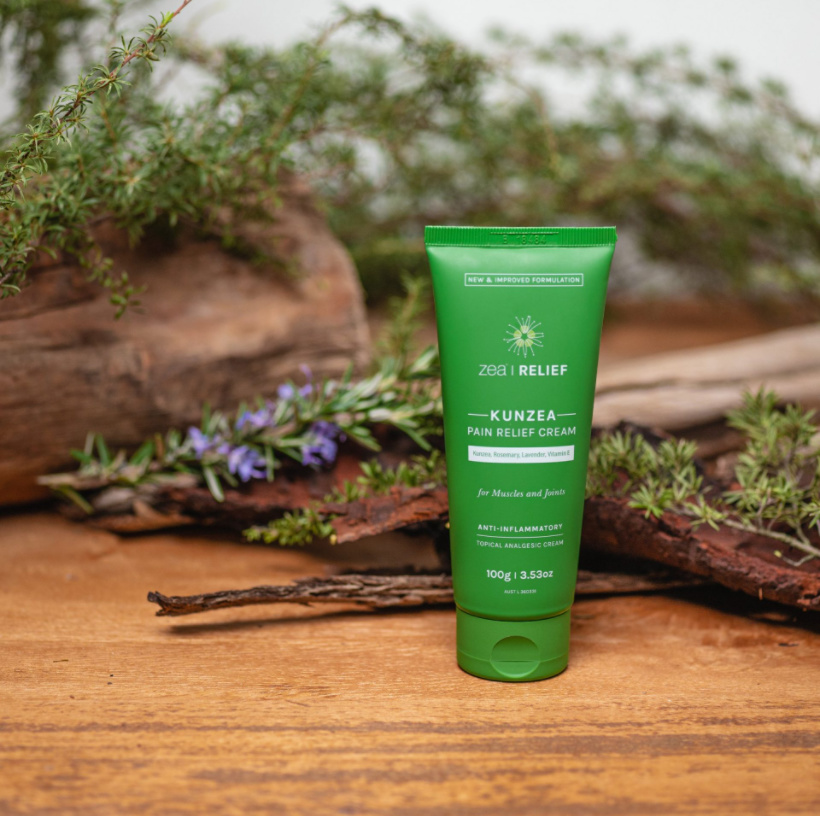 This specially formulated pain relief cream is made primarily from kunzea oil, and combined with a number of other beneficial ingredients, including macadamia oil, shea butter and rosehip oil. When massaged into joints three to four times a day (or more as required), the cream may help alleviate the discomfort and pain from joint inflammation and swelling associated with mild arthritis.
Always read the label. Follow the directions for use. If symptoms persist, talk to your health professional.