The important reasons you should eat protein every day
Sponsored Content
Health
11 months ago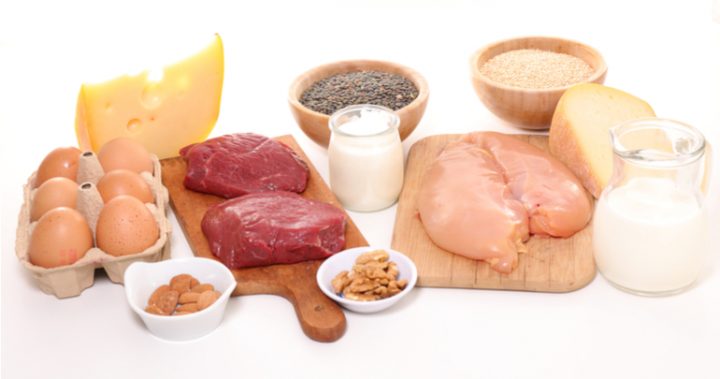 When it comes to eating a healthy, balanced diet, ensuring you include a variety of foods for essential nutrients is always the best choice.
But there is one essential nutrient in particular that becomes even more important as we age: protein.
Protein packs a powerful punch when it comes to keeping our bodies strong later in life.
The problem for many over-60s is that they don't get enough of this important nutrient.
Many even cut back on protein-rich foods because of a lack of appetite or the belief that they don't need as much protein as they get older.
But many of our nutritional requirements increase, rather than decrease, with age, as Dr Jane Winter, accredited practicing dietitian, points out.
"Your energy requirements drop as you get older because you have less muscle mass and you're not as active, but your requirements in terms of nutrients like protein and calcium actually increase," she explains.
She suggests eating a variety of protein-rich foods in different meals throughout the day to ensure you're getting enough protein in your diet.
How much protein should I eat everyday?
Protein is found in a variety of foods and each one has its own nutritional purpose to boost your health.
Caryl Nowson, the professor of nutrition and ageing at Deakin University, recommends eating two protein-rich meals each day from a variety of protein sources.
Recommended portion sizes vary depending on which type of protein source you're eating. The table below indicates how big each portion should be, depending on the type of protein-rich food you're eating.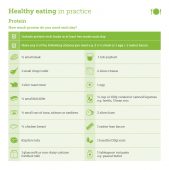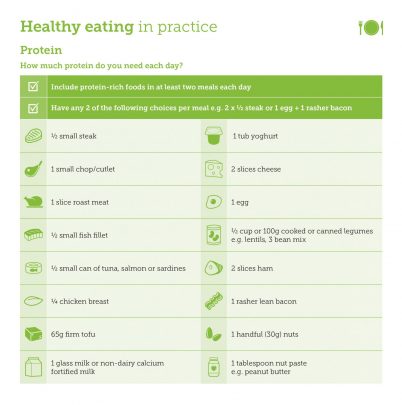 For example, breakfast could be an omelette with one egg and a third of a cup of cheese. Similarly, lunch could be a sandwich with one slice of roast beef and two slices of cheese.
A handful of nuts and one small tub of natural yoghurt make a convenient snack. Then, for dinner, try a small fillet of fish to get your daily dose of omega-3 fatty acid.
Which protein sources should I eat?
Nowson says that milk and cheese are good sources of protein and are important sources of calcium.
"Red meat is a good source of iron and zinc," she says.
"And then fish provides omega-3 fatty acids and plant proteins such as legumes provide dietary fibre so each has something the other doesn't and that's why you need a healthy mix."
It's the combination of these nutrients from a variety of protein-rich foods that helps keep our bodies strong as we age.
While protein is essential for building and maintaining muscle, calcium and vitamin D work to keep our bones strong, which helps prevents broken bones later in life.
Combining these different protein sources in our meals throughout the day ensures we are giving our bodies the vital nutrients it need, helping us live more independent, active lives for longer.
How much protein do you eat every day? Do you eat a mix of protein, vegetables, fruits and grain foods?