Cancer treatment forces Barry Dubois to miss major milestone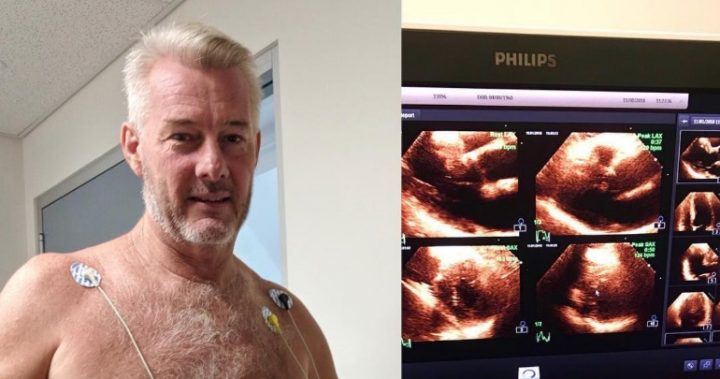 He's one of Australia's favourite TV presenters, but Barry Du Bois is going through one of his toughest battles to date.
The 57-year-old, who many Australians watch on Channel Ten's The Living Room of a Friday evening, made the heartbreaking revelation that he had been diagnosed with cancer late last year. The star, who had been diagnosed with the disease in the past, confirmed that multiple tumours had returned to his body.
He made the initial announcement on an episode of The Living Room last year and has since been updating fans of his health status on social media. While he's been trying to stay positive throughout the ordeal, he revealed that his treatment had made him miss an important milestone.
As many children around the country started school for the first time last week, Barry informed his fans that 2018 also marked the first time his two children, Bennett and Arabella, would be starting school. While it's a tradition for most parents to take their little ones to school on the first day, Barry's treatment meant he wasn't able to be there for Bennett and Arabella's big day.
Ad. Article continues below.
Taking to Instagram, he shared a picture of his kids as newborns and a photograph of them in their new school uniforms, ready to embark on their new adventure. "An incredibly proud day with my beautiful babies starting school, bitterly disappointed I can not be with them this morning but I guess everyday I am in this hospital is a day closer to it all being over," he said to his fans.
"Thank you all for your support, I can't be prouder and still think I am the luckiest bloke in the world. I am also sending love & strength to all the mums & dads that have little ones heading off to school today. #love #life #family #tears."
Fans were quick to share their sympathy for Barry. One person wrote: "Oh Barry, they're *beautiful* kids! And they have their Dad's gorgeous smile! I know it must have been hard not to be with them, but every day in hospital brings you closer to spending many, many, many more days with them! You're always in our thoughts and hearts".
Ad. Article continues below.
Another fan said: "Stay strong you're getting closer to finishing treatment. Hang in there and count the days down. Thinking of you. Your kids and wife would and are so proud of you and so they should be. Keep fighting Baz you can do it," while a further message read: "My thoughts and prayers are with you as you fight your battle back to health. I hope you win your battles and look forward to seeing you back on our screens. God be with you x"
Ad. Article continues below.
Barry had previously admitted that he fought back tears as his kids attended an interview day at school. His latest update comes after he's shared a series of updates of his health battle with fans to not only keep them updated, but to inspire them. He kicked off strem cell recovery treatment in November, while also undergoing bone marrow and stem cell procedures.
Do you have a message of support for Barry?
---
With Facebook removing news sites from your feeds we ask that you sign up for Starts at 60's emailers here. And to keep us on your wall, join some of our new Facebook groups and clubs:

News Junkies Club – Australia
News Junkies Club – USA 

See news on the change and links to all our other clubs and groups here.