From Mamma Mia! to Mary Poppins, the best movies coming in 2018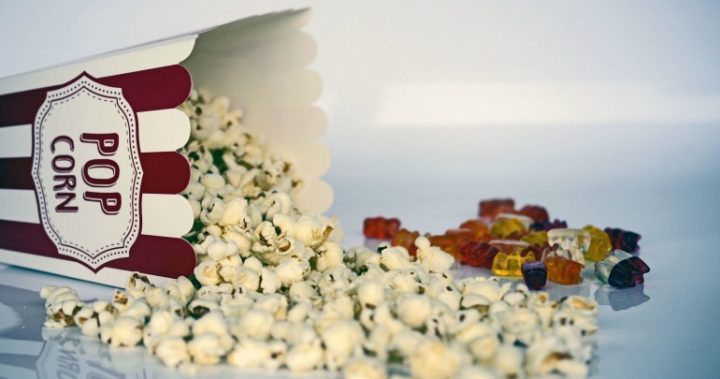 Welcoming a new year is a chance to start again and create those resolutions you may have been putting off.
But it also brings a heap of new and exciting films to look forward to – and 2018 has some incredible movies in store.
From a remake of children's classic Mary Poppins, to a sequel to the 2008 hit Mamma Mia! there's something for everyone, whether you like a romance, an action film or even a classic comedy.
So check out all the reported Australian release dates below, and get ready to sit back, relax, and enjoy!
Fifty Shades Freed – Valentine's Day
Ad. Article continues below.
In the final movie of the series, Christian and Ana return ahead of their lavish wedding, and the trailer has already given fans a first glimpse at her wedding dress.
The pair remain blissfully happy on their honeymoon, but Ana's former boss and psychopath appears to return – putting her life in danger.
Are you a fan of the steamy trilogy?
Annihilation – February (date tbc)
Ad. Article continues below.
Directed by Alex Garland and based on the book of the same name by Jeff VanderMeer, this movie will see Natalie Portman take the lead as she attempts to find out how her husband was hospitalised and left on a ventilator.
The long-anticipated sci-fi film will see her team up with professionals to enter an environmental disaster zone, where she faces untold dangers.
Tomb Raider – March 15
Ad. Article continues below.
Directed by Roar Uthaug, the movie is based on the 2013 video game of the same name by Crystal Dynamics, and will be a reboot of the Tomb Raider film series.
This time, it will focus on Lara Croft's first expedition as she attempts to complete her father's research and uncover ancient secrets capable of clearing her name.
The film stars Alicia Vikander, Dominic West, Walton Goggins, Daniel Wu, Nick Frost and Kristin Scott Thomas.
A Wrinkle in Time – March 22
Ad. Article continues below.
Directed by Selma's Ava DuVernay, this movie will appeal to both kids and adults, as a young girl, Meg, goes on a desperate search for her father.
The all-star cast includes Oprah Winfrey, Reese Witherspoon, Mindy Kaling, and, Storm Reid, and the story follows a group of youngsters in space as they battle to find Meg's dad to save him.
Overboard (remake) – April 20 (in US)
Directed by Bob Fisher and Rob Greenberg, the movie is a remake of the 1987 classic comedy – and promises some incredible scenes from an all-star cast.
Ad. Article continues below.
It follows a wealthy 'playboy' from a Mexican family who gets amnesia following a yacht accident, and is fooled into thinking he's married.
The movie stars Anna Faris, Eugenio Derbez, Eva Longoria, John Hannah, and Swoosie Kurtz.
Ocean's Eight – June 21
The next in a long line of famous and highly successful movies sees a team of all-star women unite to pull off a jewellery heist at the MET Gala.
Ad. Article continues below.
The movie will star everyone from Sandra Bullock, Cate Blanchett and Rihanna, through to Mindy Kaling, Anne Hathaway, Helena Bonham Carter, and Sarah Paulson.
What's not to love?
Mamma Mia! Here We Go Again – July 20
The new trailer for the Mamma Mia movie sequel was released just days ago, almost 10 years after the first film hit our screens.
Ad. Article continues below.
And from Cher making a cameo as the Grandma, to brand new music and an all-star line-up, the short clip is packed full of amazing footage and plot twists.
Read more: New Mamma Mia trailer teases Cher cameo and hints at shock death
While there's heavy focus on the next stage of Amanda Seyfried's character Sophie's life, the film focuses more on the backstory of Meryl Streep's character – with actress Lily James playing a younger Donna.
Will you be booking tickets?
Mission Impossible 6 – July (date tbc)
Ad. Article continues below.
Tom Cruise's Ethan Hunt returns in the latest movie in the franchise.
Just months ago, the actor told fans at Cinemacon that the film would feature "more incredible set pieces, stunts..and what I think is a very entertaining and compelling story."
The Meg – August (date tbc)
This upcoming sci-fi horror film sees Jason Statham take on giant sharks. Yes, really.
Ad. Article continues below.
After an attack by a huge sea creature which forces him to flee and leave his crew behind, Naval Captain Jonas Taylor is discharged and suffers a marriage breakdown due to his shock claims.
It leads to him attempting to stop the ancestors of big sharks – giant megalodons, while attempting to rescue his ex-wife from the depths of the ocean.
It is based on the 1997 science fiction book Meg: A Novel of Deep Terror by Steve Alten.
Fantastic Beasts 2: The Crimes of Grindelwald – November 15
In one year, return to the Wizarding World with Fantastic Beasts: The Crimes of Grindelwald. #MagicInProgress #FantasticBeasts pic.twitter.com/8aWj8xhGj5

— Fantastic Beasts (@FantasticBeasts) November 16, 2017
Ad. Article continues below.
The sequel to the much loved Fantastic Beats and Where To Find Them will once again continue into JK Rowling's wizarding world.
This time, the story follows Newt Scamander as he teams up with a younger Albus Dumbledore to take down the dark wizard Gellert Grindelwald.
The latest movie stars Eddie Redmayne, Katherine Waterston, Dan Fogler, Alison Sudol, Ezra Miller, Johnny Depp, Jude Law, Zoë Kravitz, Callum Turner, and Claudia Kim.
Bohemian Rhapsody – December 25
Ad. Article continues below.
Continuing Queen's legacy, this biographical film will focus on a 15-year period from the band's formation up to their performance at Live Aid in 1985, six years before Freddie Mercury's death.
It's directed by Bryan Singer and Dexter Fletcher, and stars Rami Malek, Ben Hardy, Gwilym Lee, Joseph Mazzello, Allen Leech, and Lucy Boynton.
Meanwhile Queen guitarist Brian May and drummer Roger Taylor serve as the music producers.
Mary Poppins Returns – December 31/January 1
Ad. Article continues below.
Mary Poppins Returns is set 20 years after the first film, and features a new generation of Banks children.
Read more: World gets a glimpse of the new Mary Poppins
The movie is based on The Mary Poppins Stories by Travers and it's being reported that a new score and new songs are being written for the film.
The cast already has many of us super excited including Dick van Dyke, Angela Lansbury and Meryl Streep – but it's the new Mary Poppins that has everyone talking at the moment – with Emily Blunt taking the lead role.
Which film are you looking forward to most in 2018? What was your favourite of 2017?