Did you know they dated? Helen Mirren reunites with ex Liam Neeson
They've both enjoyed happy marriages and romances in the public eye over the years, but do you remember when Helen Mirren dated Liam Neeson in the 1980s?
The former flames have reunited on British TV programme The Graham Norton Show, more than three decades after they enjoyed a five-year romance. Proving there's no bad feeling whatsoever, the pair laughed and joked with the host and looked completely relaxed in each other's company.
Mirren stunned in a knee-length white dress as she appeared on the famous sofa. The 72-year-old actress appeared effortless as she chatted away in front of the audience. Meanwhile Neeson, 65, opted for a smart suit and black top for the show, which filmed this week ahead of airing on Friday night.
The pair previously dated from 1980 through to 1985, but their romance has remained fairly hidden in the public eye as it took place before the internet took off. However, Mirren hasn't tried to hide it, and according to Vanity Fair, she even fondly remembered a camping trip they embarked on together, during a 2015 appearance on Good Morning Britain.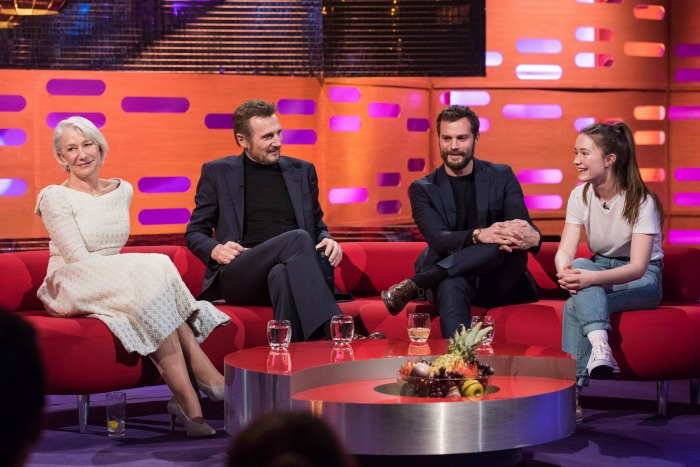 "We went camping in Cornwall. He loved camping as well. And we had this little car and Liam is 6'4… his head was sticking out of the car, really. We had our tent in the back and all our little stuff, our little stove and everything," she told the show. She went on to describe them pitching the tent, but as she described the "p***ing rain", the hosts cut her off for the bad language – and viewers weren't given the chance to hear the end of the story.
According to the Mail Online, Mirren previously said of their relationship: "We loved each other. It was difficult to let go."
They were joined on the sofa by Fifty Shades of Grey actor Jamie Dornan and musician Sigrid. Mirren is now happily married to director Taylor Hackford. Meanwhile, father-of-two Neeson was married to the late actress Natasha Richardson, before her tragic death following a ski accident in 2009.
Ad. Article continues below.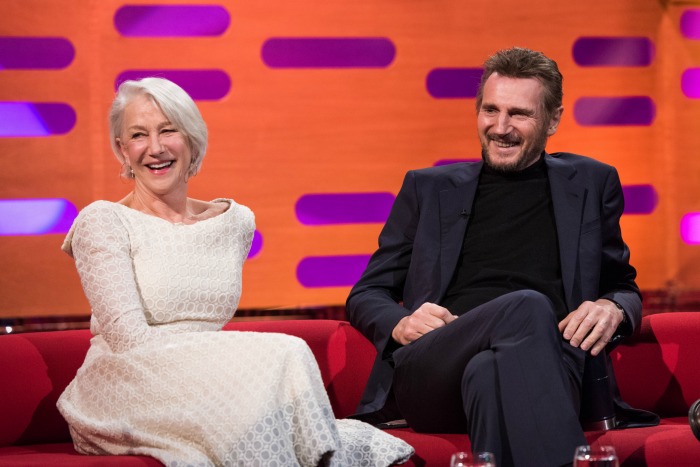 Meanwhile, it comes after Neeson made headlines recently when he controversially said the 'MeToo' campaign is getting to be "a bit of a witch hunt".
Read more: Liam Neeson calls MeToo campaign a 'witch hunt'
Ad. Article continues below.
The actor appeared on the Irish chat show The Late Late Show, where he lamented the downfall of actor Dustin Hoffman, who has been accused of multiple instances of sexual harassment, and indicated some cases against other Hollywood men had been blown out of proportion.
"There is a bit of a witch hunt happening too," Neeson said. "There's some people, famous people, being suddenly accused of touching some girl's knee or something and suddenly they're being dropped from their program."
When asked about the accusations against Hoffman, Neeson said he was "on the fence". "When you're doing a play and you're with your family, other actors and technicians, you do silly things. You do silly things and it becomes superstitious. If you don't do it every night you think it's going to jinx the show," he added.
Do you remember Helen Mirren and Liam Neeson dating?