Bernard Tomic threatens to quit 'I'm A Celeb' after just two days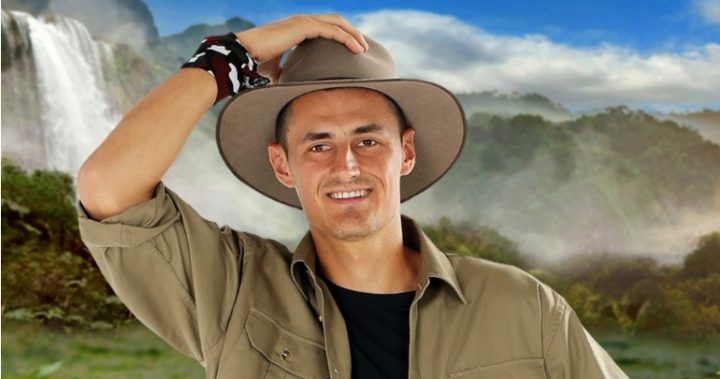 He's only been in the African jungle for two days but controversial tennis star Bernard Tomic is already threatening to quit I'm A Celebrity … Get Me Out of Here!
In moves that have angered fans and supporters of the 25-year-old, Tomic suggested that he was ready to walk away from the popular reality show after just a few days. During Monday night's live cross to the jungle, Tomic was noticeably absent from the camp when hosts Julia Morris and Chris Brown announced who would be competing in the next challenge. The pair suggested that they weren't really sure what was happening and that Tomic was talking with producers about whether he would continue on in the show or not.
It all began after Anthony Mundine chose him to compete in a daring challenge earlier in the episode that would see him and fellow contestant Fiona O'Loughlin suspended high over a cliff. The task was for Tomic to wear a pair of glasses that made everything look like it was upside down, while O'Loughlin had to try and guide him through the obstacle course. The purpose of the challenge was for the pair to earn as many of the stars in the course as possible to feed the ten contestants back at camp.
That is a LOT of sweat. Don't be fooled, it's tough work out there ???? #ImACelebrityAU pic.twitter.com/89RU9Fagh6

— #ImACelebrityAU (@ImACelebrityAU) January 29, 2018
Ad. Article continues below.
It didn't take long for Tomic to struggle with the course and eventually pull out of the challenge. "I am really sick," he could be heard saying on camera. "I'm about to vomit." He said he'd never felt so sick in his life as medics from the show treated him at the scene. Host Chris Brown suggested that the glasses Tomic had to wear could have easily made him feel quite sick. He explained that because Tomic was seeing everything upside down, nausea was his body's way of trying to correct the situation. Either way, Tomic later suggested that he didn't want to remain on the show any more.
"I just wasn't expecting all of this," he said. "I am just not coping well. This is not the real world this is the jungle. This is so different. Not what I expected. I don't think I can do it. I think it is best if I go."
His camp mates Mundine and Jackie Gilles suggested that Tomic should sleep on his decision before throwing in the show completely. Still, it appeared as though they were falling on deaf ears. "There is no point in me being here anymore and wasting unnecessary time for myself," Tomic suggested.
It all came after the athlete was grilled by his fellow contestants earlier in the episode over his attitude towards Tennis. They suggested that he wouldn't be happy if he retired so young and encouraged him to continue with the sport. In addition to Monday evening's task, Tomic has had to jump out of a plane and was bitten by a snake seven times during another task that required him to seek medical assistance from a health professional on the set of the show.
Ad. Article continues below.
Fans of the show were quick to share their thoughts on whether Tomic should continue on or not. One person on Facebook wrote: "Bernard has probably hit a tennis ball every day of his life since he was a child. He would be so out of his comfort zone just being in the jungle let alone a challenge like that and not succeeding. I hope he stays so we can get to know him better. Good luck Bernard." Another said: "Ohhhh shutup. Not use to doing anything for himself. When the going gets tough Tomic quits. Same old story. Just suck it up." A third added: "I thought he was trying to change Australia's opinion of him, he is just reinforcing what everyone thinks, he gives up when things get hard, typical."
Will Bernard Tomic become the first-ever Celeb to say the words "I'm A Celebrity Get Me Out Of Here"? Find out tomorrow. #ImACelebrityAU pic.twitter.com/XTjikkf7YW

— #ImACelebrityAU (@ImACelebrityAU) January 29, 2018
Bernard's future on the show is expected to be revealed this evening. Reports suggest that he's being paid millions for his stint on the reality TV show.
Ad. Article continues below.
What do you think? Do you think Bernard should continue on in the show, or should he quit?
---
With Facebook removing news sites from your feeds we ask that you sign up for Starts at 60's emailers here. And to keep us on your wall, join some of our new Facebook groups and clubs:

News Junkies Club – Australia
News Junkies Club – USA 

See news on the change and links to all our other clubs and groups here.