Bernard Tomic 'offered millions' to appear on 'I'm A Celebrity'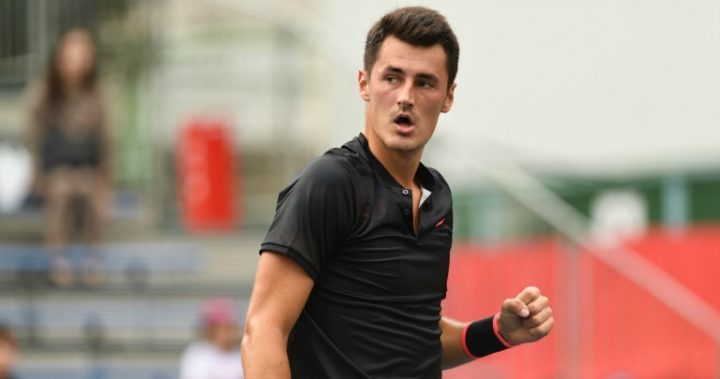 He's one of Australia's most talked about tennis stars but it's been a while since Aussies have actually seen Bernard Tomic on the court.
The 25-year-old was hoping that Tennis Australia would award him a wildcard into the highly anticipated Australian Open, but his dreams were slashed yesterday after TA came to a decision, formally ruling him out of the prestige tournament.
Speaking to The West, TA boss Craig Tiley said that qualifying was Tomic's only chance of being part of The Open, but he has apparently expressed his disinterest in doing this.
"He's not going to get a wildcard. He'd have to go through qualifying," he said. "I would hope that Bernie would want to put himself in a position to play, but he's indicated that that's likely not going to be the case."
The young star, who once ranked 17 in the world, has fallen to number 150. It now looks like Tomic has other career plans.
Ad. Article continues below.
Read more: Bernard Tomic delivers foul-mouthed spray to fan at the US Open
In a report ran by the Herald Sun, it is believed that Tomic could be appearing in the upcoming series of I'm A Celebrity … Get Me Out of Here.
The show, which airs on Network Ten, sees a bunch of Aussie personalities living together in the jungle of Africa. Together they must compete in gruesome challenges and daring tasks in order to win food for the camp. The Australian public votes for contestants they want to see participate in challenges, with stars being eliminated when they don't receive enough votes.
The program was won last year by former Australian Idol contestant Casey Donovan and it is believed that Tomic is in talks to appear on the upcoming fourth series, which is set to debut later this month.
Herald Sun reports that Tomic has been boasting that he's been offered more than a million dollars to appear on the popular show. Many believe that he's been intentionally showing a lack of interest towards tennis so he can participate in the show.
Ad. Article continues below.
In addition to knocking back Lleyton Hewitt's invite for him to join him at a training camp. Mr Tiley added that by not doing this, he slashed his chances of becoming the wildcard.
Read more: I'm rich, you're not: Bernard Tomic piles new insults on tennis fans
"We've made the offer [to play in the wildcard playoff]. Lleyton [Hewitt] did," Tiley said. "We said: 'We'd just like you to play the Australian Open wildcard playoff and, if you just make yourself available and play it, you give yourself a good chance to get in'. "We all know Bernie can play the game. He's had some great wins here. He's one of Australia's top players and we'd love to see him competing and playing."
Neither Tomic or Channel Ten has responded to the reports that he is entering the jungle, but the Herald Sun suggests that he'd been bragging about the large pay packet to fellow Australian tennis stars.
Tomic had previously caused outrage in Australia for his behaviour and attitude towards the game. Last year he was accused of poor sportsmanship at Wimbledon. He's been known to throw matches by faking injury and even suggested that he was "bored" of the game.
He's also known to flaunt his wealth, suggesting that he doesn't care what people think of him and that most of his critics will never have what he's had at such a young age.
What do you think? Should Tomic be rewarded with a million dollar pay packet to appear on reality TV?