Adorable school kids go viral with Jackson 5 tribute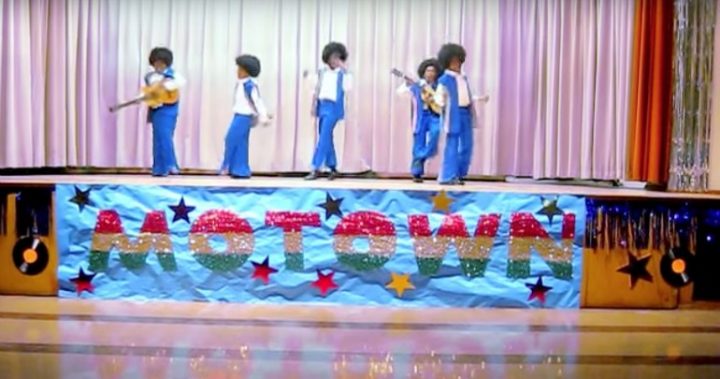 If you were ever a fan of the original Jackson 5, this video is going to touch your heart.
Video has resurfaced of five children from Baldwin Hills Elementary in the United States performing a truly adorable tribute to the Jacksons.
While the video was first uploaded in 2014, it's since gone viral again, being viewed over 35 million times across the various social media sites including YouTube, Facebook and Twitter.
Each year, the students at the school perform to music from the past as a way to keep it alive for the newer generations.
This particular video shows give kids performing 'I want You Back'. They're wearing outfits that look just like the costumes the original band members used to perform in. 
Ad. Article continues below.
Teacher Malinda Williams, who is the brains behind the nostalgic idea, said she wanted to share what she'd discovered from her childhood with her students.
Read more: 'Royal' choir goes viral with cheeky Kate Middleton impression
"Motown music and school R&B music were consistently played in my house growing up. I feel in love with it," she told The Huffington Post.
"Once I became an educator, I felt compelled to share what I learned growing up with my students."
Ad. Article continues below.
She added that she liked the messages that music from the 50s, 60s and 70s had: "The lyrics are clean for the most part, and the music is that of quality.
"Actual people played the instruments, and the singers were naturally talented. Technology was not heavily relied upon."
People all over the world praised the video for bringing happiness to the world.
Read more: Aussie grandmas go viral with hilarious dance video
One person wrote: "Once in a while something comes across this mega social media world that just makes you stop and smile. Thanks to a great group of kids and teachers I have now wasted a wonderful 20 minutes or so just smiling and remembering these tunes from my childhood."
Ad. Article continues below.
Another comment read: "This is the cutest video I have seen in a long time!!! I hope they won the talent contest."
A third added: "I just erupted into a fit of pure happiness when I saw this."
What did you think of the video? Do you miss the tunes from the past?