She kept the rest of her look simple, opting for a chic black turtleneck jumper paired with skinny black jeans and a pair of black heeled ankle boots. While Prince William went for a smart casual look, wearing a shirt and sweater beneath a navy blazer and matching navy pants.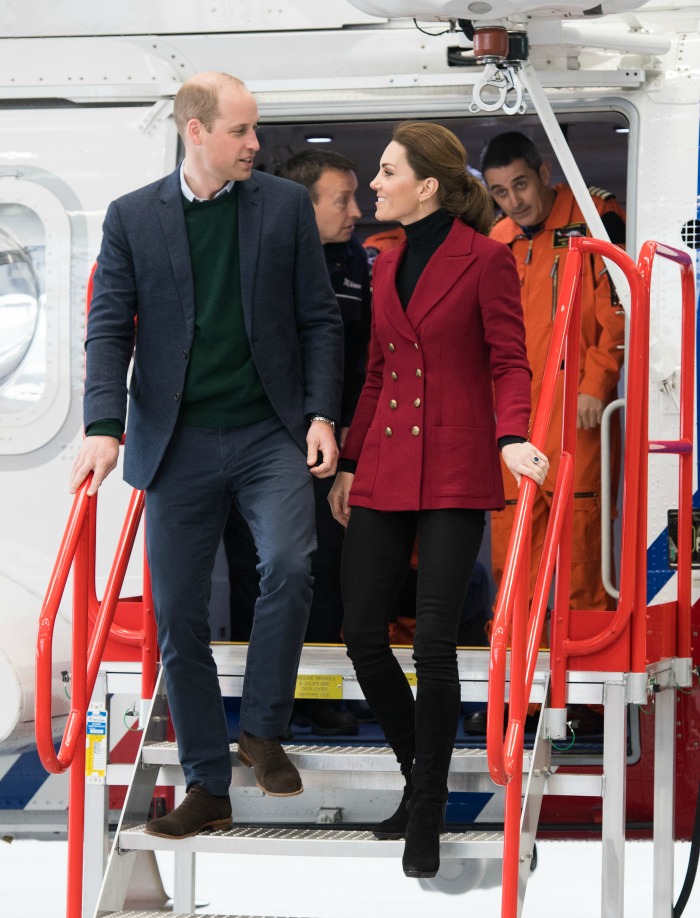 Read more: Prince William congratulates brother on new baby with hilarious dad joke
At the search and rescue team's helicopter base, the duke caught up with two of his former colleagues, Mike and Rich, who worked alongside William during his time as a Search and Rescue Pilot.
The couple also visited the Menai Bridge Scouts at Newborough Beach's wildlife habitat, where the royal couple took part in a beach clean-up exercise alongside local primary school pupils.
Before taking part in the clean-up though, Catherine switched her formal coat for something a little more suitable and showed off her casual style in a black waterproof jacket, which she paired with her favourite pair of knee-high leather walking boots. While William ditched his blazer for a warmer coat.
Earlier this week the Duke and Duchess of Cambridge told reporters they were excited about the birth of the latest royal baby, who has been named Archie Harrison Mountbatten-Windsor.
Speaking after news of Baby Sussex's birth had been confirmed on Monday, William said he was "absolutely thrilled" about the birth of the Duke and Duchess of Sussex's son, adding he was "looking forward to seeing them in the next few days when things have quieted down".
He added: "I'm very pleased and glad to welcome my own brother into the sleep deprivation society that is parenting."
Meanwhile, Catherine added: "It's such a special time, obviously with Louis and Charlotte just having had their birthdays it's such a great time of year to have a baby, spring is in the air.
"As William said, we're looking forward to meeting him and finding out what his name's going to be, so it's really exciting for both of them and we wish them all the best. These next few weeks are always a bit daunting the first time round so we wish them all the best."
Are you a fan of Catherine's style? Do you like to see the couple carrying out engagements together?