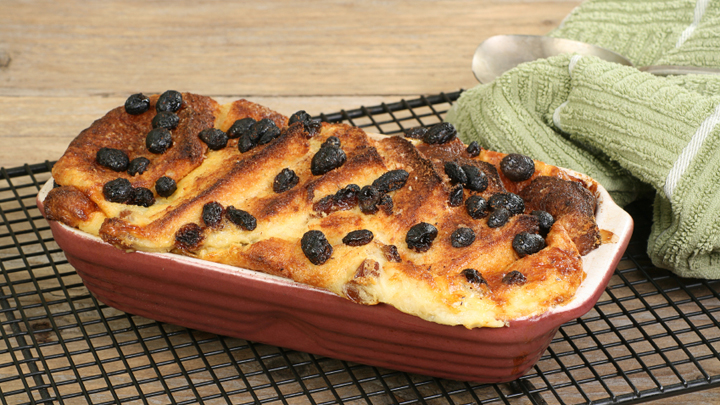 Winter is nearing an end so in these last cold days, why not try your hand at these five awesome bread and butter puddings?
Traditional bread and butter pudding
Ingredients
150g mixed sultanas and raisins
75g caster sugar
1 lemon or orange, finely grated zest
½ tsp mixed spice
8 thin slices white bread, crusts removed
100g butter, melted
For the custard
2 eggs
300ml pint double cream
150ml pint milk
2 tbsp demerara sugar
Method
You will need an ovenproof dish about 1.5 litres volume (18 x 23 x 5 cm).
Preheat the oven to 180C and use some of the melted butter to grease the dish.
Combine the dried fruit, sugar, lemon zest and spice together in a bowl and toss to mix well.
Cut each bread slice into three strips. Take bigger slices to cover the base of the dish and dip one side of each one in melted butter. Lay them in the dish, buttered-side down. Sprinkle with half the dried fruit mixture. Repeat the layering, laying the bread strips buttered-side up. Lay the third and final layer of bread strips on top, buttered-side up.
For the custard, beat together the eggs, cream and milk in a bowl and pour it over the pudding. Sprinkle with demerara sugar, and then leave to stand for about one hour if time allows.
Bake for about 30-40 minutes, or until the top is golden-brown and crisp and the pudding slightly puffed up. Serve hot or cold.
via BBC
Panettone pudding
Ingredients
50g butter, softened (optional)
250g panettone (about 5 medium slices, raisin toast works well too)
2 eggs
142ml carton double cream
225ml milk
1 tsp vanilla extract
2 tbsp caster sugar
icing sugar, for sprinkling
softly whipped cream, to serve
Method
Preheat the oven to 160C and grease a 850ml shallow baking dish.
Cut the panettone into wedges, leaving the crusts on. Butter the slices lightly with the rest of the butter. Cut the slices in half and arrange them in the dish, buttered side up.
In a bowl, whisk together the eggs, cream, milk, vanilla extract and sugar and pour evenly over the panettone.
Put the dish in a roasting tin and pour hot water around it to a depth of about 2.5cm/1in. Bake for 35 minutes until the pudding is just set – it should be yellow inside and nicely browned on top.
Dust with icing sugar and serve with spoonfuls of whipped cream.
via BBC GoodFood
Marmalade and Cointreau bread and butter pudding
Ingredients
160g (about 1 cup) sultanas, raisins or currants
60 ml (¼ cup) Cointreau
50g butter, softened, plus extra to grease
250g (about ½ loaf) white bread, cut into 1.5cm slices
170g (¼ cup) good-quality marmalade
Custard
8 eggs
500 ml (2 cups) milk
1 tsp vanilla essence
220g (1 cup) caster sugar, plus 1 tbsp extra, to sprinkle
Soaking time: 2 hours 10 minutes
Method
You will need a 2L casserole pan or similar for this recipe.
Toss the dried fruit with the Cointreau and allow to stand, ideally for a few hours or even overnight.
Preheat oven to 180°C and grease a 2L casserole dish.
Butter each slice of bread generously, smearing every second one with marmalade and lay over base of prepared casserole pan, overlapping a little as you go. When you have one layer, sprinkle over some dried soaked fruit, then continue layering until you've used all the bread and dried soaked fruit.
To make the custard, place the eggs, milk, vanilla essence and sugar together in a bowl, whisking to combine.
Pour the custard over the bread until all of the bread is moistened. You want to have the bread wet, but not so wet that it's soupy. Allow to stand for 10 minutes to soak up custard. The ideal level of custard after a few minutes is just below the top of the bread. Sprinkle with extra sugar and bake for 45 minutes or until the custard has firmed right to the centre. Serve pudding warm or at room temperature.
via SBS
Ginger and pear bread and butter pudding
Ingredients
2 slices day-old white bread, crusts removed
15g softened butter
2 tbsp ginger preserve
1 ripe pear, peeled, cored and diced
1 medium egg, beaten
4 tbsp demerara sugar
150ml milk
Method
Spread the bread with the butter, then the preserve. Cut each slice into 4 triangles. Arrange half the bread in the base of a 300ml microwave dish. Scatter over the pear and top with the remaining bread triangles.
Beat together the egg, half the sugar and the milk. Pour over the bread and leave to soak for 10 mins, pushing the bread down to soak up the milk mixture.
Cook the pudding in the microwave on High for 4 mins, then leave to stand for 5 mins. Cook on high for 1 minute.
Heat the grill. Sprinkle over the remaining sugar, then cook under a hot grill until the top is bubbling and golden. Serve the pudding warm.
via BBC GoodFood
Croissant and chocolate bread and butter pudding
Serves 8
Ingredients
Unsalted butter for the baking dish
6 large egg yolks
2 cups whole milk
1 cup heavy cream
1 cup granulated sugar
1 teaspoon pure vanilla extract
1/2 teaspoon salt
1/2 teaspoon
ground nutmeg
6 croissants, cut into 2cm pieces

110g

 

bittersweet chocolate, cut into chunks
Method
Heat oven to 180 degrees. Butter an 16cm square baking dish.
In a large bowl, whisk together the egg yolks, milk, cream, sugar, vanilla, salt, and nutmeg. Add the croissants and chocolate and mix to combine.
Transfer the mixture to the prepared baking dish and bake until set and a knife inserted in the center comes out clean, 30 to 40 minutes. Serve warm or at room temperature.
via Real Simple
What is your best bread and butter pudding recipe?