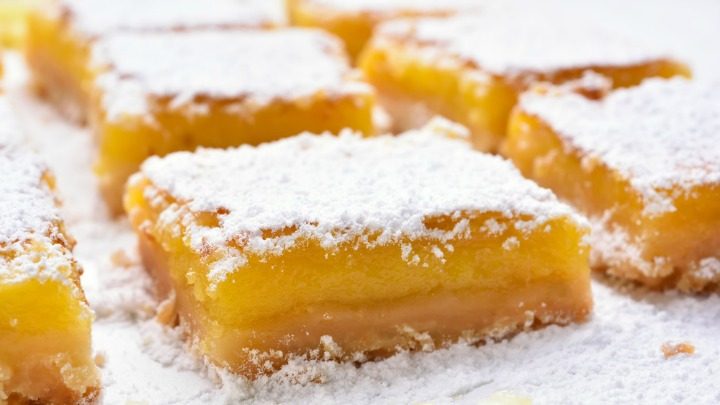 There are a lot of recipes for lemon slices out there, but this one is hands down one of the best. The lemon curd is the perfect balance of citrus and sweet, while the biscuit base balances all the flavours. Cut it into squares and dust with icing sugar and a little grated lemon peel for the prettiest finish ever!
Ingredients
180g unsalted butter, at room temperature
80g (1/2 cup) pure icing sugar, plus extra, to dust
1 teaspoon vanilla extract
1 egg
225g (1 1/2 cups) plain flour, sifted
Candied lemon peel, to serve (optional)
Topping
315g (1 1/2 cups) caster sugar
4 eggs
2 egg yolks
1 tablespoon lemon rind, grated
160ml (2/3 cup) lemon juice
40g (1/4 cup) plain flour
1. Grease a 20cm square cake pan and line with baking paper. Use electric beaters to beat the butter, sugar and vanilla in a bowl until pale and creamy. Beat in the egg. Fold through the flour. Press into the base of the tin. Place in the fridge for 1 hour, to rest.
2. Preheat oven to 180C/160C fan forced. Bake the base for 25 minutes or until golden. Set aside to cool.
3. For the topping, use electric beaters to beat the sugar, eggs, yolks, lemon rind and lemon juice in a bowl. Fold through the flour.
4. Pour over the base. Bake for 30 minutes or until firm. Cool in pan. Place in the fridge to firm. Sprinkle with icing sugar. Cut into squares and top with peel, if using.
—————————————————–
If you'd like to see more recipes from Starts at 60, click here. And if you have a recipe you'd like to share with the Starts at 60 community – we'd love to share it! Submit them to us by completing the form below.
Submit your article here
Comments