Visiting your parents should never feel like a chore.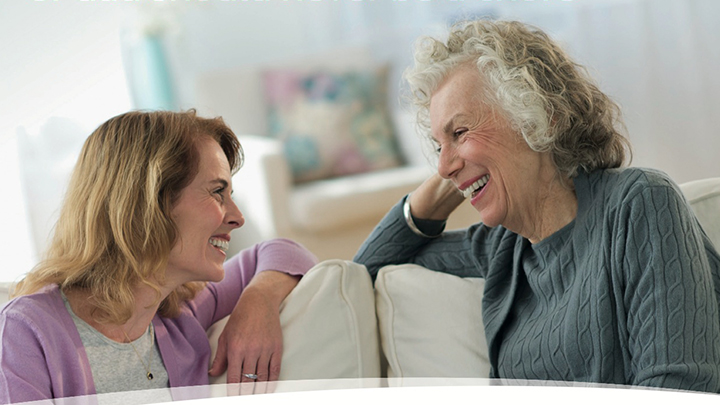 Many of us in the Starts at 60 community have recently reached a very difficult milestone: the point where our parents need some extra help to get by each day. It's a point where visits become less of a joy and – as much as we hate to admit it – more of a chore.
Just a generation ago, this might have meant moving to a nursing home; effectively giving up their independence in exchange for comfort and safety.
Thankfully, times have changed, and this generation has a far wider spectrum of options available, offering a far happier outcome for parents and family members alike.
If your loved ones simply need a little bit of assistance and support to get by, Aveo Serviced Apartments offer a very appealing alternative to a traditional nursing home: the chance to continue their existing lifestyle, without giving up their valuable privacy or independence.
Couples can stay together. Their home remains their own. Family members can stay over – and often love to do so.
Ad. Article continues below.
Aveo's services don't take away freedoms, but simply make life easier, safer and more enjoyable. They'll give your parents the level of care they need, when they need it. If those needs change, so can the level of care. However, it remains their own life, their own home, and on their own terms.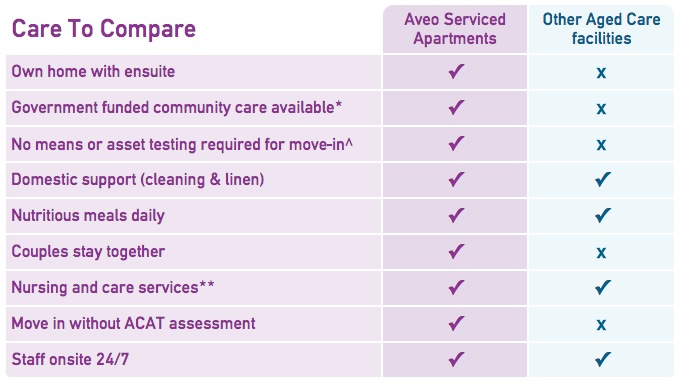 Better yet, the support can actually improve your loved ones' quality of life, freeing up valuable time to enjoy the things that really matter.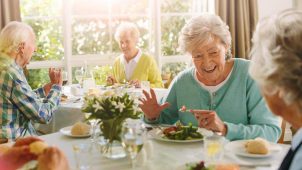 Barbara, a resident of Aveo Bayview Gardens, moved into her Serviced Apartment when she started feeling isolated in her own home. Since making the change, she's found a great deal of extra freedom.
"It's wonderful not having to go and shop for the groceries and do the cooking, washing and cleaning," she says.
Ad. Article continues below.
"Sometimes I feel lazy and feel I should be doing more. Then realise: no, this is the life."
The food in particular gets glowing reviews from residents and family members alike, with choices of fresh, hearty, nutritious dishes that vary each and every day.
Click here to learn more, or see what Aveo's residents have to say below:
With options ranging from studio apartments to self-contained two-bedroom homes, there's an ideal option for practically any need or budget.
Ad. Article continues below.
And should your loved ones' medical needs change over time, they'll have access to higher levels of care and support, without leaving the community or their disrupting their comfortable, independent lifestyle.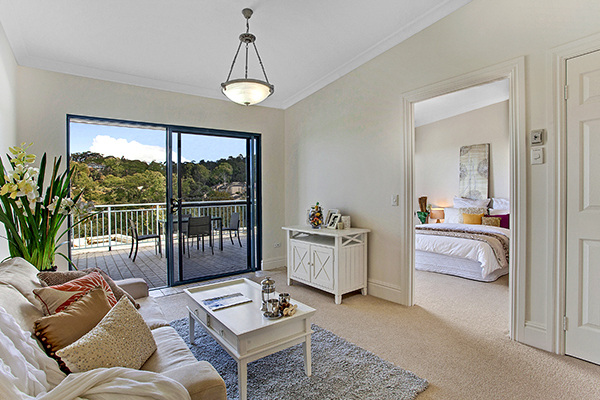 For David, whose parents moved to a local Serviced Apartment five years ago, it's made life easier and happier for the entire family.
"We can come here knowing they're well looked after," he said. "We can spend time with them, but there's nothing to do. We don't have to maintain their property or make sure things are done and bills are paid. Everything is done."
"It's just the ideal scenario for ageing parents."
Click here to find a serviced apartment near you, or call 13 28 36 to arrange a visit.
This post is sponsored by Aveo. It was written as we believe it delivers valuable insights into a subject important to the Starts at 60 community. For more information, please visit the Aveo website.