Retirement village overhaul makes 'ageing in place' a reality
Sponsored Content
Property
11 months ago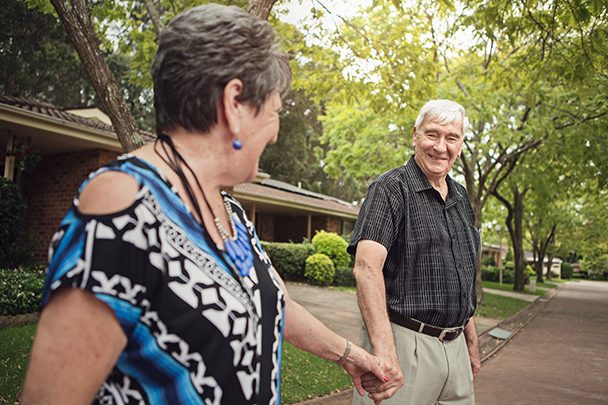 A 'silver tsunami' of increasingly healthy and savvy older Aussies who want to age in place is changing the face of the residential retirement sector.
About 184,000 people currently live in retirement villages, but within just eight years that number will have more than doubled, according to consultancy Grant Thornton.
And the longer-term outlook is for numbers to continue to grow, as older people make up an increasingly large proportion of the population, and a growing number choose to live in retirement villages, as has been the trend since at least 2010.
But rather than accepting that the move to a retirement village is merely a stop on the journey to a nursing home, today's seniors are firmly in favour of 'ageing in place'.
That's common parlance for remaining either in the family home or a downsized residence for as long as home care makes possible, ideally to the very end of life.
Until recently, this would have been a vain hope for the many people who go on to require a medium or high level of support and care in their later years.
But changes in January to the delivery of home care services mean that consumers have far more control over where they use government-funded, in-home support.
And it's a change that retirement village operators have been preparing for, so they can step in with a hybrid model that mixes independent living with a range of support and health services.
Andrew Lowcock, the policy advisor for retirement living at the Property Council of Australia, says that the home-care changes opened the door for retirement villages to get directly involved in care services, either by updating their offering to include care, or by striking partnerships with external care agencies.
"Previously, when retirees made the move to right-size to a smaller house or apartment, they had to make another move later in life to residential aged care," he says. "Now, the firm expectation is their move to a retirement village will be the last house move they make."
This is because under the recent changes to care provision rules, village residents can have their care funded by a government 'care package' but provided by their retirement village operator.
While some villages now offer low and mid-level care services, others have aged care facilities such as a nursing home on site. And others offer high-level, nursing home-level care even to residents in independent living-style apartments.
Lowcock says there are advantages for residents that access care through their village.
"One provider can service many clients in the one place, meaning more time with each resident and more value for money," he explains, in comparison to the sums paid for care in a standalone residential property.
"Village residents can continue to live independently while receiving that extra bit of care and support they need, from home cleaning to meals to allied health and therapy services."
Kerrie Storey, the care and services development manager at RetireAustralia, agrees that prospective residents are looking at retirement villages with a new mindset.
"The age of the residents entering tends to be older and there's definitely an awareness of what their care needs may be in the future," Storey says.
RetireAustralia already offers supported living across much of its portfolio and has further increased the amount of support available to residents of the independent living units at its Central Coast community in New South Wales, with plans to roll out those increased services at its other communities over time.
These home-care services include help with shopping, cleaning and other household tasks, as well as personal care and nursing support if required.
Residents who choose to purchase supported-living services in RetireAustralia's care apartments, meanwhile, have access to a higher level of care that can include laundry, assistance with bathing or dressing, the provision of meals, and 24-hour on-site access to support staff.
"Supported living suits many people who've have had a fall or health crisis, or just need some extra help, while still living independently in their own home, close to family and friends," Storey says.
All levels of services can be funded by a government home-care package or through private means, and Storey underlines Lowcock's point that accessing them through a village can allow residents to "stretch" their care funding further.
"They're designed to be extremely flexible so people can access the services when they need them, for as long as they need them, and then opt out," she explains.
"And because we're on site, our minimum visit is 30 minutes, where a lot of other providers have a two-hour minimum when attending a family home, for example, because they have to factor in travel costs."
That's not just attractive to potential buyers who are considering their own future requirements. Storey says the option of increasing levels of care over time, without the need for a move, is also attractive to many people who're currently looking for a residential solution for their parents.
"In any situation with older parents, you try to minimise the changes they need to go through, and to meet their needs without diminishing their autonomy," she explains.
"By moving into a village and becoming friendly with the staff and other residents, you can go some way towards doing that, especially if your parent needs help with very personal services such as bathing. It's not a stranger helping them, it's someone they're friendly with.
"It's really important that your parents are safe and well cared for, but that they maintain their dignity too."
Have you thought about how you'll manage to 'age in place'? Have you considered a new-style retirement village with care services?

Life at our villages is positive, safe and rewarding RetireAustralia is the leading private owner, operator and developer of retirement villages in Australia. We foster environments in which residents enjoy all the benefits of autonomy, connection, healthy living, and purpose, and can feel relaxed and secure in their retirement.