Saturday Night Nostalgia: Singing along with The Partridge Family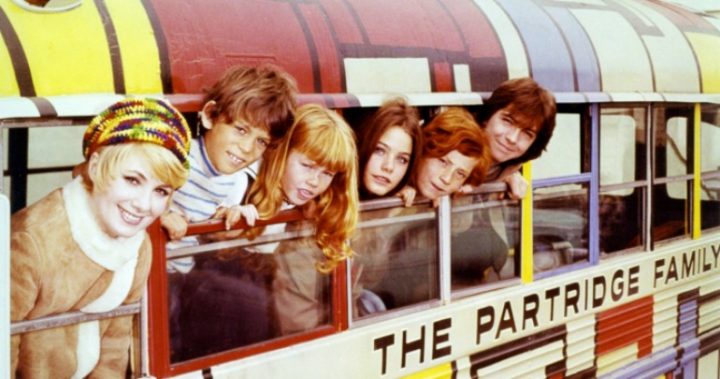 Come on, get happy!
When anyone mentions The Partridge Family, it's hard not to hear that song in your head.
The wholesome American family first burst onto TV screens in 1970 and went on to become one of the most loved TV families of all time.
The sitcom ran for four successful seasons and catapulted the young stars including Shirley Jones, David Cassidy, Susan Dey, and Danny Bonaduce to superstardom.
Ad. Article continues below.
Not to be confused with rival TV family The Brady Bunch, The Partridge Family told the story of a widowed mother, Shirley, who finds herself singing in a band with her five kids.
You'll recall that they lived in the fictional Californian town of San Pueblo and formed a band in their garage.
It was all very rock and roll.
When the kids needed someone else to sing in their band, Shirley decided to put her hand up and get in on the action.
One of the youngest members of the family, Danny, saw huge potential in the band and encouraged his family to hire a manager.
Ad. Article continues below.
When they did, their homemade song quickly became a massive hit.
With demand growing for the family to take their music to the masses, Shirley decides to join her kids on a tour of America.
You'll probably remember the gang painting an old school bus in a psychedelic 70s pattern and making their way across the country, where they eventually performed a show in Las Vegas.
The show became so popular that a number of big names made cameos throughout its run.
Ad. Article continues below.
Some of the biggest included Johnny Cash, Jodie Foster, Meredith Baxter, and Farrah Fawcett.
Away from the screen, The Partridge Family was one of the hottest groups around, actually performing on stage in real life, not just in the show.
During their four years, the group released eight studio albums and eleven singles. They topped charts around the globe and were even nominated for a Grammy in 1971 for Best New Artist.
Ad. Article continues below.
One of their biggest hits was 'I Think I Love You', while 'Doesn't Somebody Want to Be Wanted' and 'I'll Meet You Halfway' were also popular.
In addition to the hit TV show and albums, the family had an extensive range of merchandise such as comic books, lunch boxes, dolls, toys, clothes and even board games.
They also appeared on cereal boxes, in magazines and at one point, a range of Partridge family-themed trade cards were the biggest thing on the playground.
The gang have also reunited for a number of TV reunions, but the show is yet to make a proper comeback.
Do you remember watching The Partridge Family when you were younger? Which song was your favourite? Did you own any of the merchandise?