From 'Number 96' to 'Sons and Daughters' Pat McDonald stole the show every time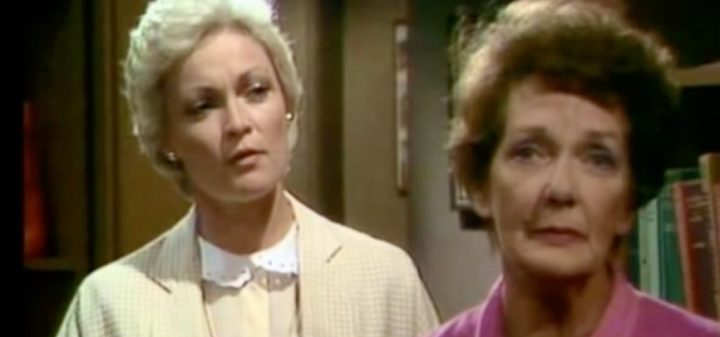 Looking back at some of the greatest actors to grace our screens and the Logie-winning stage, you have to drop the name Pat McDonlad.
Pat was born in Elwood, Victoria in 1921 and got into show business early.  At the age of 18, she appeared in the 1939 film Seven Little Australian in the role of Esther.  The experience must have left a lot to be desired because she wouldn't perform in front of a camera again 31 years.  Her next role was of Miss Bacon in the TV series The Long Arm in 1970.
In the time between parts in front of the camera, she would appear on stage production and was one of Australia's most prominent electric radio engineers and public servants.  When the acting bug bit again, it bit in a big way.  After The Long Arm Pat had guest roles on Homicide, Dynasty, and two guest roles on Division 4 as different characters.
It wasn't until 1972 that Pat hit one of the roles that she would be best remembered for, Dorrie Evans on Number 96.  The role of the malapropping gossip Dorrie won Pat the Best Actress Logie in 1973, 1974, and 1976.  Pat also won the prestigious Gold Logie in 1974.  Personally, Number 96 was magically for Pat as it was where she would meet the love of her life, Bunney Brooke. Bunney and Pat were very open about their relationship, the home they shared and the trips taken together in the press that they did.
After Number 96 had ended, Pat tried a few more TV roles on The Tea Ladies, Glenview High and a two-part role as Lily Bauer on A Country Practice.  It was her role as Fiona Thompson on Sons and Daughters that snagged her more love from Australian audiences.
Ad. Article continues below.
Sadly, after the end of Sons and Daughters finished in 1987 she only made a few more appearances as she had a lengthy batted with Pancreatic cancer.  It was a battle that she would lose in 1990.
No matter what role she was in Pat would steal your attention and made the most of the 68 years that she had on this planet.