Visiting castles, movie sets and Westeros [Rogue Nomads]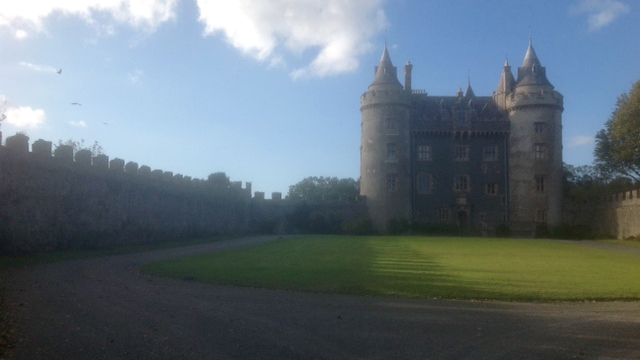 This is part 31 of Dee's grey nomad adventure around Europe. To read her previous instalment, click here
Heading towards Belfast, we found a little caravan park in a place called Killyleagh. So now we were in Northern Ireland (back in the UK). I didn't realise how beautiful Northern Ireland is.  We wandered into the little town, which has a picturesque castle, privately inhabited but very "fairy castle-ish".
Greg thought he'd treat me to a coffee so we dropped into a little cafe-deli and Greg immediately recognised the Melbourne accent of the lady that served us! Well! Her name is Cath, she married an Irishman, moved to Killyleagh 15 years ago, divorced him, kept the cafe and then fell for another Irishman, so is now owner of the cafe and part owner of the pub (by marrying a second Irishman), the pub being three doors down, by the name of the Dufferin Pub.
So she takes us down and we are introduced to everyone, including her yummy second husband. The Dufferin Pub was used in the film Philomena. Apparently the whole street was taken up by film crew for three days prior to the shoot….they said Dame Judi Dench was a delight to talk to….and the scene was shot in one take! I've heard this about Judi Dench, that she rarely needs more than one 'take'.
Ad. Article continues below.
We were invited back in the evening; they often have jam sessions there, Blue Grass and country mainly. We thought best not to be rude, so we popped down at around 7pm. Greg had four Guinness's and I was on soft drinks, but no one let us pay! So there we were, strangers in an Irish Pub, getting drinks paid for us by the locals!
It was probably the best evening for us because they all chatted to us about their lives, about the "troubles", all sorts. We were sad to leave and have promised to return. So quite by chance we met some delightful, interesting people. The following day we were on our way to Ballymoney on the northern coast. Although it was raining, we decided to "do" the "Game of Thrones" self drive. It was quite a long drive, stopping at some of the locations used in the Game of Thrones.
The first stop for us was The Dark Hedges.  This beautiful avenue of beech trees was planted by the Stuart family in the eighteenth century, who intended it to be an avenue to impress visitors as they approached the entrance to their Georgian mansion, Gracehill House. Two centuries later, the trees are still there, and have become one of the most photographed natural phenomena in Northern Ireland. In the Game of Thrones, it represents the King's Road.
We were lucky to be there when there were only a few other tourists taking photos, but I still couldn't get a shot without anyone in it! We went on to view Cushenden Caves, then various other locations, and finally The Giants Causeway…which is one of those tourist "must see"s which because of the rain and slippery rocks, we weren't allowed to see!
Ad. Article continues below.
Oh well.  Next time! What I can say is that we simply have to return to Ireland, in particular Northern Ireland, as there is so much to see, so much history, and it is a stunning part of the world. Next day….ferry to Scotland, a long long drive to the Midlands, a final farewell to family and friends….a couple of trips out; one to Foxton Locks, Leicestershire, a staircase of locks on the Grand Canal, where we chatted to numerous Narrowboat owners, living on the canals, plus a visit to Northampton Shoe Museum, all within a short drive of my relatives  (next time we intend to take a look at more local attractions).
Time to head home! But before we left, we delivered our trusty English caravan to the shipping company near Felixstowe, as we decided to send it home to Australia, (full of "stuff") of course.
It arrives in Melbourne on 2nd January.  More adventures for our little caravan, this time in our great country.
Have you visited any historical landmarks? What are your fondest memories of exploring? Tell us below!