The worst thing Donald Trump Jr has said so far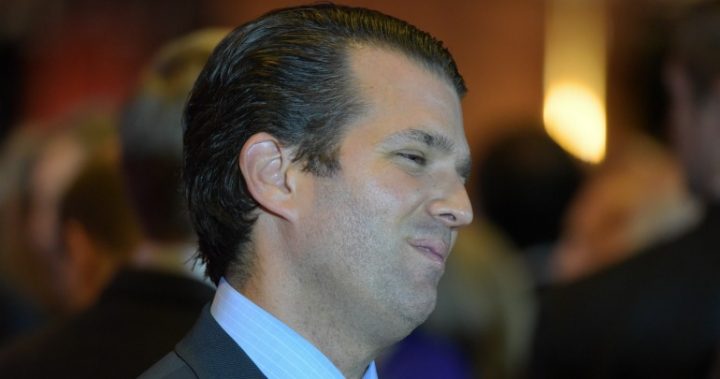 The Trumps are making news for saying something controversial yet again.
But before you start on presidential candidate Donald Trump, it's actually his son causing fury on social media.
Donald Trump Jr took to Twitter to express his views about refugees comparing them to Skittles, yes Skittles – the candy.
You might be wondering  how he found a comparison between them?
Well, he shared a Trump campaign poster with the slogan:
Ad. Article continues below.
"If I had a bowl of skittles and I told you just three would kill you. Would you take a handful? That's our Syrian refugee problem."
He then captioned the photo saying the image "says it all".
"Let's end the politically correct agenda that doesn't put America first," he wrote.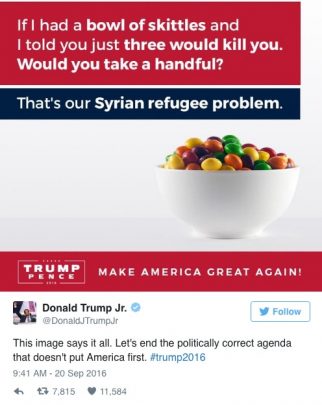 Source: @DonaldJTrumpJr/Twitter
Ad. Article continues below.
So, what are the people slamming him on social media saying?
Some Twitter users have posted photos from the Syrian civil war with the caption "Skittles", while the word Skittles was trending on Twitter.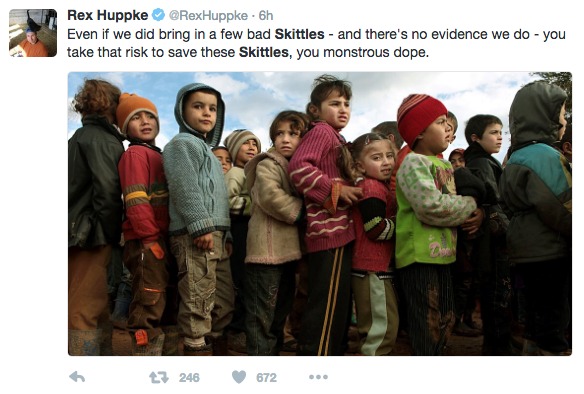 President Barack Obama's former speech writer was also scathing of Trump Jr.
Ad. Article continues below.
"Hey @DonaldJTrumpJr, this is one of the millions of children you compared to a poisoned Skittle today," he wrote.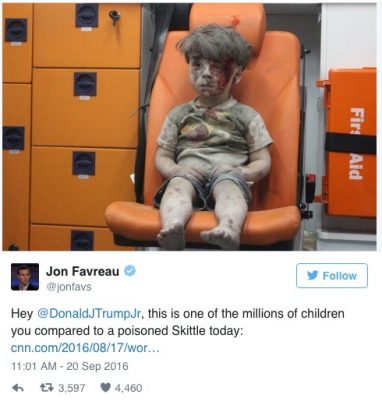 So what about the company that makes Skittles?
Well, they've slammed Trump Jr too.
Ad. Article continues below.
A spokeswoman for Wrigley told the Guardian his analogy was inappropriate.
"Skittles are candy. Refugees are people. We don't feel it is an appropriate analogy," she said.
"We will respectfully refrain from further commentary as anything we say could be misinterpreted as marketing."
To make matters worse, Donald Trump Jr has been accused of copying the slogan from someone else.
Ad. Article continues below.
Former Congressman Joe Walsh shared a tweet he wrote in August with the exact slogan.
"Hey @DonaldTrumpJr, that's the point I made last month. Glad you agree," he wrote.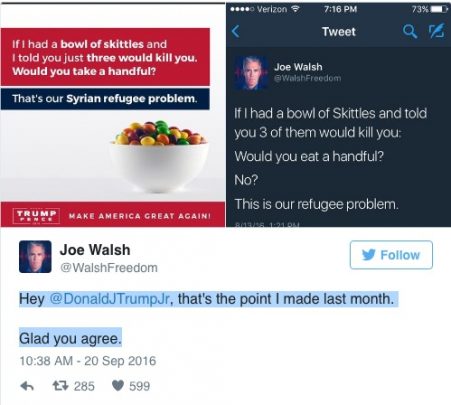 What do you think? Does Donald Trump Jr have a point? Or is his analogy wrong?