The most epic European Road Trip plan... by algorithm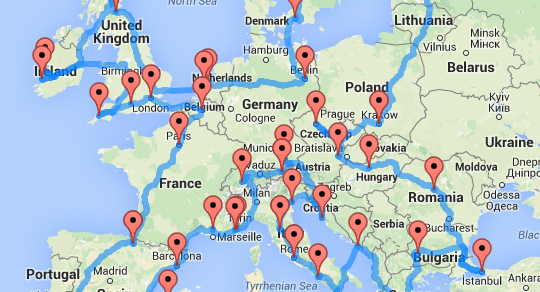 One of the worlds most famous artificial intelligence and rich data PHD candidates, Randy Olson has stripped back the best and most loved destinations in Europe to make an algorithmic plan for what is being called "The Most Epic European Road Trip Ever". It could be, from today, something to put on the baby boomer bucket list we think.  It is a post being discussed in media all over the world so don't be shy… take a good look today at the travel dream of many.
According to his blog, to calculate the trip, Olson picked out a list of stops from this Business Insider article and then removed the places that required traveling over water. After that, Olson plugged the stops into a Python code to calculate the shortest distance between each stop.
The road trip makes 45 stops in total, and takes people through the most ideal destinations listed in a recent Business Insider article from Tuscany on the Italian coast to Santorini in Greece, all the way north to lapland in Finland and west to Ballybunion in Ireland.
In total, the trip covers 16,287 miles (26,211 km) and 14 days of driving, and Olson says you should expect to dedicate at least 3 months if you're going to take on this road trip.
"You may notice that eastern Europe is somewhat underrepresented in this road trip, so if you want the full taste of Europe, it'll be worthwhile to add some stops between Poland and Estonia," he says.
Ad. Article continues below.
There's an interactive version of the map linked to his blog… here
Here's the full list of stops in order:
Innsbruck, Austria
Munich, Germany
Pag, Croatia
Venice, Italy
Tuscany, Italy
Florence, Italy
Rome, Italy
Vatican City
Amalfi, Italy
Gozo, Malta
Dubrovnik, Croatia
Santorini, Thira, Greece
Rila Monastery, Rilski manastir, Bulgaria
Istanbul, Turkey
Sighisoara, Mures County, Romania
Budapest, Hungary
Vienna, Austria
Prague, Czech Republic
Krakow, Poland
Jägala Waterfall, 74205 Harjumaa, Estonia
Lapland, Finland
ICEBAR, Marknadsvägen, Jukkasjärvi, Sweden
Bergen, Norway
Copenhagen, Denmark
Berlin, Germany
Amsterdam, Netherlands
Keukenhof, Stationsweg, Lisse, Netherlands
Edinburgh, United Kingdom
Inverness, United Kingdom
Ballybunion, Ireland
Cliffs of Moher, Clare, Ireland
Cornwall, England
Stonehenge, Amesbury, United Kingdom
London, United Kingdom
Brussels, Belgium
Paris, France
Pamplona, Spain
Lagos, Portugal
Granada, Spain
Ibiza, Spain
Barcelona, Spain
Luberone, Bonnieux, France
Nice, France
Monte Carlo, Monaco
Interlaken, Switzerland
Have you every done a European Road Trip?  Is it on your bucket list?