Elton John cancels shows to be there for beloved Prince Harry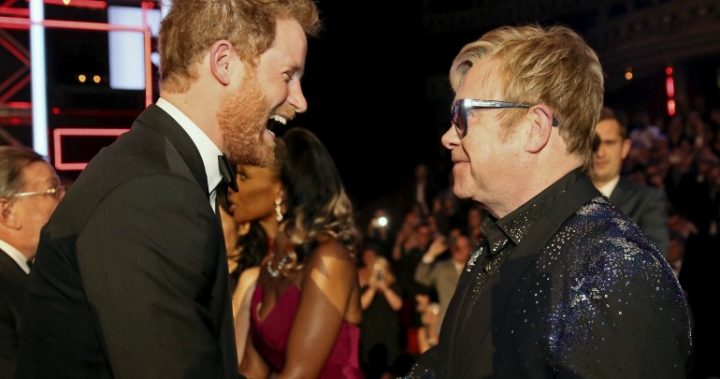 Most of us will go to great lengths to make it to a close friend's wedding, but few of us get to make our excuses on other events in quite such a high-profile fashion as Elton John.
The veteran performer, who was close friends with Prince William and Princess Harry's beloved mother Diana, has reportedly cancelled two gigs at Caesars Palace in Las Vegas, where he's currently the resident entertainer, so he can attend Harry's heavily anticipated marriage to Meghan Markle in May. 
The Sun reports that Elton had already made clear he was keen to make it to the wedding, saying that he loved Harry very dearly. "Both of those boys are very special to me because of their mother," he told The Sun's entertainment columnist Dan Wootton. The singer was a guest at Prince William's wedding at Westminster Abbey in 2011.
Read more: Elton John posts happy snap with Diana as he mourns his 'angel'
Prince Harry and Meghan are due to wed on May 19 at St George's Chapel at Windsor Castle. But the happy couple have a pre-wedding trip to make for Valentine's Day – a visit to Edinburgh in Scotland for a series of official engagements.
Ad. Article continues below.
As People magazine report, Harry is sure to have a lovely day, even while on a 'work trip', because Meghan's previously revealed that she's a big sucker for the most romantic day of the year. "Be it breakfast in bed, a sweet love note, or a single flower, it really is the thought that counts," she wrote on her now-defunct website of her thoughts on Valentine's Day gifts.
The couple got engaged in November over a dinner at home in their shared cottage and are now in the depths of wedding planning, with plenty of anticipation over who may or may not be on the guest list. Harry reportedly insisted that his aunt, Sarah Ferguson, be invited to the nuptials, despite fears that Fergie may be tempted to publicly reveal details of the event.
Elton John, meanwhile, isn't going to let US fans down, despite cancelling the Las Vegas shows. He's just announced extra North American concerts, after the first 60 dates of his Farewell Yellow Brick Road tour sold out. The 70-year-old entertainer has said that this is his final tour before he retires. 
 "I'm not going to be touring and travelling the world," he said in January. "My priorities have changed. I have young children."
What lengths have you gone to to attend a special event with friends or family?