Emotional Elton John makes heartbreaking retirement announcement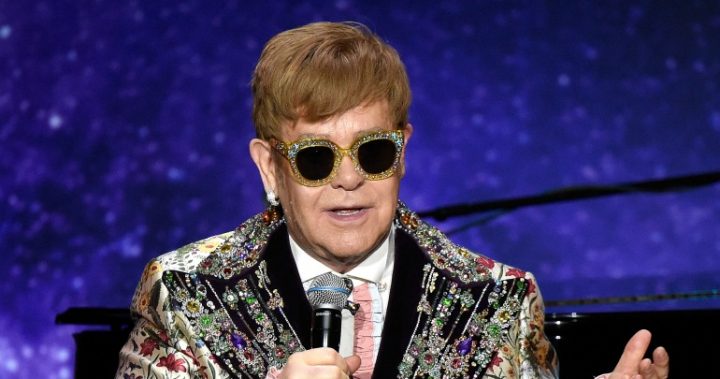 He's been entertaining the world for decades but Sir Elton John is calling it a day.
The 70-year-old announced that he would be retiring from touring at an emotional press conference in New York City. The singer will go out with one final bang with a farewell tour.
"I'm not going to be touring anymore," Rolling Stone reporters the songwriter telling Anderson Cooper at the conference. "I'm not going to be touring and travelling the world. My priorities have changed. I have young children."
Fans had been eagerly awaiting an announcement from Elton, who had mysteriously posted a countdown timer on his website and social media accounts. He promised to make an announcement soon. "I've finally decided where my future lies," he teased. "The road awaits, a journey begins."
Ad. Article continues below.
His press conference was streamed online and around the world, where he said that fans would still have one final chance to catch a glimpse of him before he turns away from touring. He will be embarking on a lengthy world tour, performing more than 300 shows over a few years. "I don't want to go out with a whimper," he suggested. "I want to go out with a bang. It'll be the most produced, fantastic show I've ever done."
He added that now was the right time to say goodbye to his fans and that he needed to focus on his family and children. His eldest, Zachary, is now seven, while Elijah is five years old. "I'm 71. I can't physically do the travelling anymore. I want to be at home. I really want to spend time with my children at home. I've had an incredible life, but life is all about to change." Still, he promised that it wouldn't be the last fans would hear from him and that he would still be creative.
His shock announcement comes just two months after his partner David Furnish said he didn't think Elton would ever give up performing. "Without question, Elton must never stop performing," he said at the time in an interview with Music Week.
"We all have things that kind of keep us alive in life. Some people relish the idea of a retirement where they do nothing [but] for Elton that would be purgatory. Playing to live audiences is going to be something he always needs to do."
Ad. Article continues below.
Devastated fans took to Elton's Facebook page with well-wishes for the singer. One fan wrote: "So happy for you. Hope to see you one last time. That would make my 27th concert. Time for you to take time for yourself and your family. Kick back and enjoy!"
Another said: "So sad, but love that you will get to spend more time with your family!! Thanks for all your music and memories. So glad my mom raised me on good music!" A third fan added: "I guess that's why they call it the blues. #EltonJohnForever."
His website crashed shortly after the announcement as fans rushed to the singer's site to try and secure tickets. The tour will kick off in September in America before heading around the globe.
What do you think of the announcement? Are you sad that Elton is retiring? Did you ever see him perform live?
---
Ad. Article continues below.
With Facebook removing news sites from your feeds we ask that you sign up for Starts at 60's emailers here. And to keep us on your wall, join some of our new Facebook groups and clubs:

News Junkies Club – Australia
News Junkies Club – USA 

See news on the change and links to all our other clubs and groups here.