Python's hiding place in a mulch pile has snake spotters stumped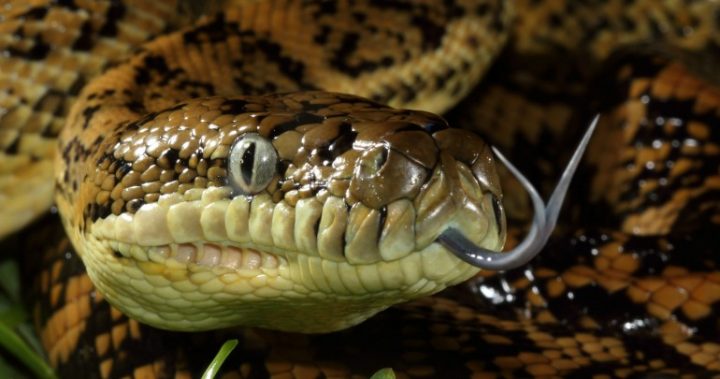 Snakes are amazing creatures, but don't seem so amazing when they get up close and personal at your home.
So it's no surprise that a homeowner called out Sunshine Coast Snake Catchers 24/7 to remove a snake that had made its home in a big pile of mulch. It was so well camouflaged that Lockie Gilding, a co-manager of the reptile relocation service, couldn't resist posting a snap of the snake, challenging the company's Facebook followers to see if they could identify its location in the mulch pile.
The picture had plenty of followers stumped, with many saying they were unable to spot it and some even claiming they could see two snakes in the pile. Can you spot it?
In a follow-up post, Lockie gave a bit more detail and a close-up video to show the snake's very well-hidden location, and the unexpected outcome of the removal operation
Ad. Article continues below.
"The snake in question was a female coastal carpet python and just so happened to be sitting on a clutch of eggs," he explained. "Unfortunately the mulch pile that she was using was in the process of being moved and so she had to be safely relocated, lucky for her the eggs are in perfect condition and will be looked after by us until they are ready to hatch!"
Coastal carpet pythons aren't venomous and live mainly on mammals such as rodents and possums (although they're not averse to a dog, cat or guinea pig if the opportunity arises) but can grow to more than three metres (10 feet) in length. They live in rainforests, forests and dry woodland but aren't unhappy in suburban backyards and farmland.
Wildlife Queensland says that the pythons are commonly found in roof and wall cavities, exposed beams on verandas, in shed and garages, and likes to live in trees, shrubs, discarded building materials and garden debris.
Did you spot her? If you find a snake too close for comfort, do you call a professional removal service or do it yourself?