There's no need for Julie Bishop to apologise to NZ PM : Turnbull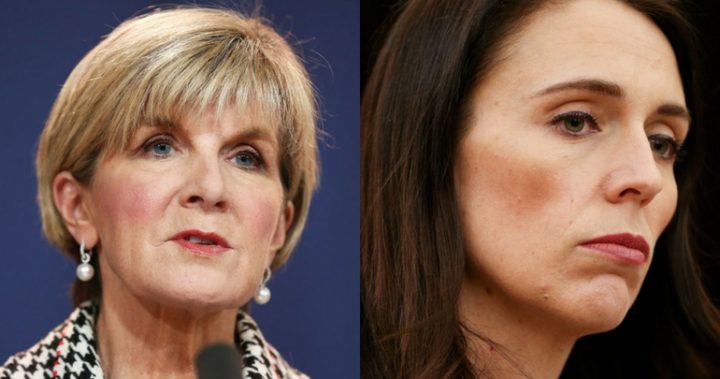 Prime Minister Malcolm Turnbull has come out in defence of Foreign Minister Julie Bishop following calls for her to appease the newly elected New Zealand government by apologising to new Prime Minister Jacinda Ardern over scathing comments she made earlier this year, saying that he expects to be able to work with and trust the newly formed government. 
During the drawn out New Zealand election campaign, Bishop accused the New Zealand Labour party of conspiring with the Australian Labor Party to expose the Barnaby Joyce citizenship scandal, when it was first revealed he had Kiwi and Australian citizenship.
Read more: Barnaby Joyce latest MP to be caught up in dual-citizenship bungle
Bishop said that she would find it "very difficult to build trust with members of a political party that had been used by the Australian Labor Party to seek to undermine the Australian Government".
At the time, Ardern was diplomatic in her response to Bishop's accusations, tweeting that she wouldn't let "disappointing and false claims" affect her relationship with the Australian Government. 
Ad. Article continues below.
I value our relationship with the Australian Govt highly. I won't let disappointing & false claims stand in the way of that relationship

— Jacinda Ardern (@jacindaardern) August 15, 2017
Read more: Barnaby Joyce hilariously honoured with award nomination
Speaking to Melbourne radio station 3AW, Turnbull said that he had spoken to Ardern on the phone, and also to outgoing Prime Minister Bill English, whose government he praised for doing an "outstanding job in restoring New Zealand's economic fortunes".
"But Jacinda Ardern will be the new prime minister and I will work with her as constructively as John Howard used to work with Helen Clark," he added. 
Ad. Article continues below.
"The enduring friendship, the alliance the bonds between Australia and New Zealand are so close, we are family."
As to whether Bishop should apologise for what she said, Turnbull emphatically said "no". 
"Sometimes you are better off not scratching away at past political episodes, I am looking forward to a great relationship with the new government," he said.
Do you think Julie Bishop was fair in her words, or should she apologise to mend bridges?