Barnaby Joyce latest MP to be caught up in dual-citizenship bungle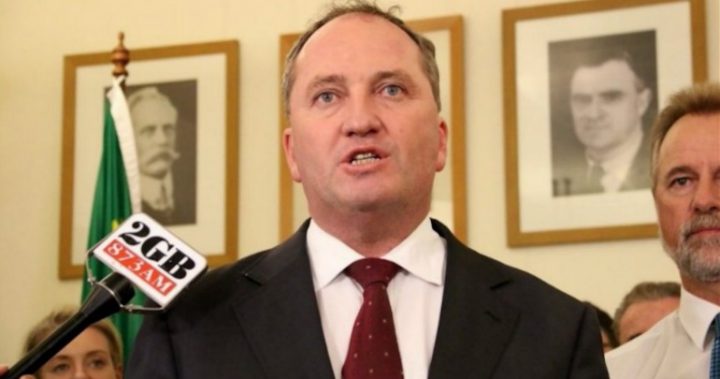 Barnaby Joyce looks set to the latest MP to caught out over his citizenship, with reports emerging that he's asked the High Court for advice on whether he's a New Zealand citizen.
Parliamentary reporters in Canberra have tweeted that Joyce, the deputy prime minister, had received legal advice that he may be a dual citizen of Australia and NZ, and that he'd referred the matter to the High Court for a ruling.
Stephanie Dalzell, an ABC reporter based at Parliament House, tweeted that Joyce told parliament he was "shocked when the NZ High Commission contacted him to advise him that he may be a citizen.
She tweeted that the National Party leader's father was born in NZ but came to Australia in 1947.
The reporter tweeted that Joyce had said he would stay on as deputy PM in the interim.
Ad. Article continues below.
Read more: Greens senator won't be deterred by dual citizenship bungle
Surprise dual nationalities have already claimed the scalps of Greens' senators Larissa Waters and Scott Ludlam, who quit when their citizenships of Canada and NZ respectively came to light.
Liberal Matt Canavan and One Nation's Malcolm Roberts are currently waiting on legal advice over their citizenship, with Canavan claiming that his mother applied for Italian citizenship for him without telling him.
Read more: Another MP resigns over dual citizenship mishap
Roberts has confirmed that he was a British citizen in the past but claimed that that was no longer the case – at issue is whether he still had dual citizenship when elected.
All Australian parliamentarians sign an oath when elected that they hold only Australian citizenship.
Can you believe another politician could've been mistaken over their citizenship? If confirmed, should they have to pay back their parliamentary wages?