'No excuses': Malcolm Turnbull warns churches over abuse compensation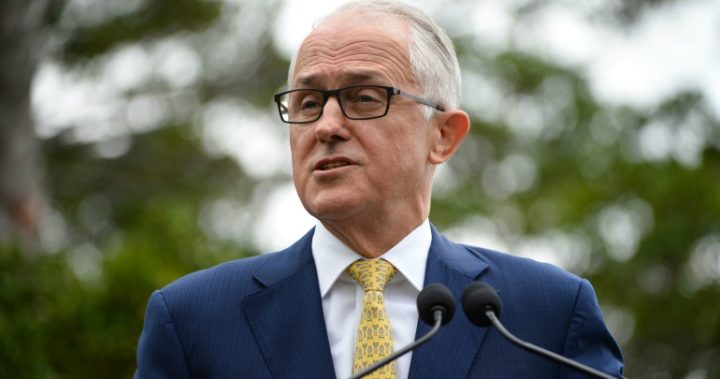 Malcolm Turnbull says churches and charities will be "judged very harshly" and "fail the test of justice" if they don't join the redress scheme for victims of child sexual abuse. 
The prime minister announced today that both Victoria and New South Wales had signed up to the federal government's $3.8 billion scheme, which sees victims identified in the Royal Commission into Institutional Responses to Child Sexual Abuse compensated for their ordeal. 
"Now we have a redress scheme, and it is vital … that all states and territories and all institutions, churches and charities sign up to it," Turnbull told reporters outside Kirribilli House on Friday.
"We owe it to the survivors for their courage in telling stories they have been too afraid to speak of, often for decades. Now that those stories have been told, now that they are on the record, we must do everything within our power to honour those stories and to act and to make sure that this national tragedy is never repeated."
He warned that states and religious institutions that failed to agree to the scheme would face the wrath of the public and his government.
Ad. Article continues below.
"The system demands it, so they should now step forward and do the right thing," he said. "If they don't, they will fail the test of justice and they will fail the people they seek to represent."
He added that every victim deserved to be compensated for their "shocking stories of pain" because "justice demands it, love demands it". 
The government announced the redress scheme last year, which offers victims financial compensation as well as counselling, but many churches and institutions are yet to sign on. Under the plan, victims will be awarded up to $150,000 each; about 60,000 victims are expected to benefit. 
More than 1,200 victims gave evidence at hearings during the royal commission, many of them telling harrowing stories of abuse at the hands of church leaders, teachers and carers. The Salvation Army, Anglican Church and Catholic Church were identified as home to some of the most prolific and cruel offenders. The majority of victims were men (78 per cent male, to 22 per cent female) with an average age of just 11 years old. 
While thousands of victims are set to benefit from the redress scheme, the government announced last year that those who had been convicted of sex offences or for crimes such as drugs, homicide or fraud offences would be excluded. 
Ad. Article continues below.
Victorian and NSW victims of abuse will be able to access the scheme from July 1.
Read more: Sex offenders abused as kids should be compensated, proposal claims
What are your thoughts? Should all offending institutions be forced to pay up? 
With Facebook removing news sites from your feeds we ask that you sign up for Starts at 60's emailers here. And to keep us on your wall, join some of our new Facebook groups and clubs:
News Junkies Club – Australia
News Junkies Club – USA 
See news on the change and links to all our other clubs and groups here.