Lambie's hilarious New Year's resolution is one single women will love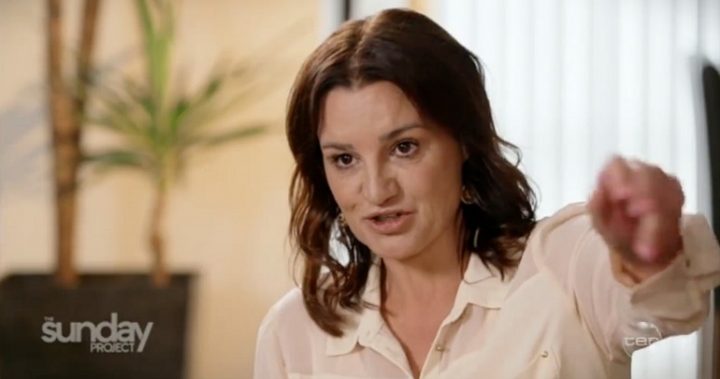 While many people have forgotten all about their well-intentioned New Year's resolutions by now, Jacqui Lambie is still determined to accomplish her 2018 dream.
What is this dream, you may ask? Like millions of single women across the country, Lambie says she has one thing in mind: to get to first base.
The outspoken former Senator sat down with Lisa Wilkinson on The Project on Sunday night and said wanted to "get to first base at least" this year after her son signer her up for a dating app.
Speaking of the few dates she's been on since, the Tasmanian wasn't that impressed.
"Oh my goodness… some of those men – and don't feel offended – but it was not pretty," she laughed.
Ad. Article continues below.
While Lambie was happy to have a laugh about her single status, things turned serious when Wilkinson asked about her 2009 suicide attempt. Lambie fought back tears as she recalled the difficult period, sparked by her battle with a chronic back injury from her time in the Army as a young woman.
She said she had been calling out to the Department of Veterans Affairs for help, but was consistently ignored. Eventually the pain became too much to bear and she decided she would end her life.
Lambie told Wilkinson she even wrote letters to her boys, saying: "I had become a burden and I was no use to them anymore that they would do very well in their lives and that what ever was left was theirs".
She added: "It was a really difficult time."
Ad. Article continues below.
Her frank admission came after an extract from her new book, Rebel with a Cause, was published in the Daily Telegraph's Stellar magazine at the weekend. Lambie wrote in graphic detail about hitting rock bottom before deciding to turn her life around and run for the Senate.
"Emptiness and numbness consumed me once again," she wrote for the publication. "The 12 months leading up to the fateful night in August 2009 [when I attempted suicide] was the absolute worst.
"Life revolved around watching TV — I went from bed to couch to bottle, to bed to couch to bottle, to bed, and so it repeated. Red wine was my favourite mate. My true mate."
She recalled suffering depression and panic attacks for the two years leading up to it, and only felt alive after "popping pills" and admitted she felt like a "complete failure".
Last year, Lambie was forced to resign from the Senate after leaning she was a dual citizen through her father's side of the family. She says she hoping for re-election after renouncing her Scottish citizenship.
Readers seeking support and information about suicide prevention can contact Lifeline on 13 11 14. Suicide Call Back Service 1300 659 467.
Are you a fan of Jacqui Lambie? Did you watch her interview last night?