Jimmy Barnes received 'death threats' after standing up to Reclaim Australia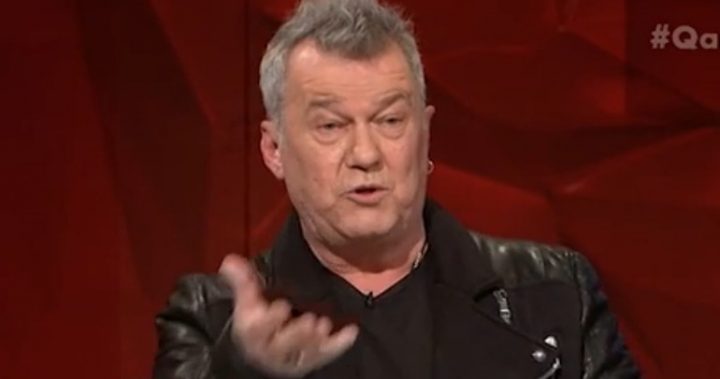 You might remember last year when Jimmy Barnes told Reclaim Australia to stop using his songs in their rallies.
Well, last night on Q&A he revealed the aftermath of his request, claiming Reclaim Australia supporters sent him death threats.
But they didn't stop there, according to Jimmy Barnes they also threatened his children.
You might be wondering how the whole issue started?
Barnes told the Q&A audience last night that he heard Khe Sanh and Working Class Man being played at Reclaim Australia rallies while he was watching the news in July last year.
Ad. Article continues below.
"The thing that really annoyed me was they all were draped in the Australian flag, and they didn't represent me. It didn't represent my views, it didn't represent the Australia I know," he said.
"I just said 'please don't use my songs'. Say what you like, but don't use my songs. And you should've seen the mail I got. The comments I got on Facebook and Twitter were absolutely horrific. People threatening my children, you know.
"It was like, because I didn't want to have my songs associated with hate speech, they said I was supporting radical Islam and I should be killed. Ridiculous."
The Aussie rocker went further on the show, calling out Pauline Hanson for "fanning the flames of extremism".
"There's problems that really should be addressed. Her fanning the flames of extremism is not good," he said.
Ad. Article continues below.
"I think she's just, it's just, ugly hate speech."
If you missed the Q&A program last night, you missed the reaction from Jimmy Barnes' fellow panellists.
Magda Szubanksi spoke about her experiences, including her parents who hid Jews being persecuted by Nazis in the Second World War.
She also spoke about being abused online after having coffee with a Muslim woman in Melbourne.
"I know from my background where that sort of hate speech can lead to. I'm never going to attack Pauline Hanson, but I will oppose her views," she said.
Ad. Article continues below.
"I'm not going to be divided by fear from other people. It's not that I don't feel fear, but what I learned from my father, is you have to be more intelligent than your fear."
So what do Reclaim Australia have to say for themselves?
Well, a post on the group's Facebook page challenged Jimmy Barnes to produce the death threats.
"I'm pretty sure with your high profile, wealth, fame and your contacts the police would have no dramas tracking these people down who have threatened you," the post stated.
Ad. Article continues below.
"Or could it be that you're a left wing bigot playing the victim card with absolutely no idea about what Islam teaches?
"Why don't you go and take another selfy outside another terrorist attack and then tell us our views on Islam don't represent Australia coz opinion polls tell a much different story!"
What do you think? Did the death threats take things a step too far? Was Jimmy Barnes right for asking the group not to use his songs?