Jamie Oliver's wife cops major criticism over photo of their baby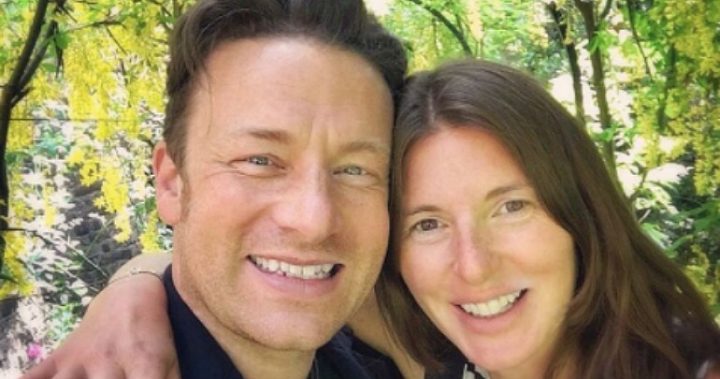 You'd think sharing a sweet photo of your wife and little baby boy would bring nothing but positive comments, but Jamie Oliver received a nasty shock when some fans started raining down criticism over the snap.
Jamie put the photo on his Instagram page for Jools' birthday with the message: "Happy birthday Mrs Oliver. Love you and of course the dude that is baby River".
The photo showed a smiling Jools carry baby Rocket in a carrier.
Apparently, many parents took issue with the front-facing carrier and accused the mum-of-five of endangering her little boy.
Ad. Article continues below.
"No, the baby should never look forward," one concerned user wrote.
"Happy birthday. But please never use that carrier again," another added. "It's not ergonomic for the child and can cause hip dysplasia. Use a carrier that support from knee to knee."
"Please do your research or ask your physio; narrow-based carriers are not only dangerous but also uncomfortable for baby," another added.
"River doesn't look particularly cosy in that pic, they should never front face. Also hip dysplasia can be undiagnosed in 15% of babies."
Ad. Article continues below.
Read more: Jamie Oliver leaves people scratching their heads after 'weird' comment about new baby
So do they have a point, or is this just a PC generation picking on every little thing they can?
For a lot of baby boomers raising their own kids back in the day it was all about whatever makes you and your baby comfortable. Most parents will tell you the way you carry your baby depends a lot on their personality.
Some babies seem to like facing outwards so they can see the world around them, while others prefer being closer and cuddling into mum or dad.
No doubt both Jamie and Jools appreciated the support from some fans though, who told the critics to get a life.
"For all the negative people if you look properly baby river is in a harness which is attached to his very capable mummy get a life and stop hating!!" said one supporter.
Do you think these people need to get a grip, or do they have a point? How did you carry your baby?