I'm rich, you're not: Bernard Tomic piles new insults on tennis fans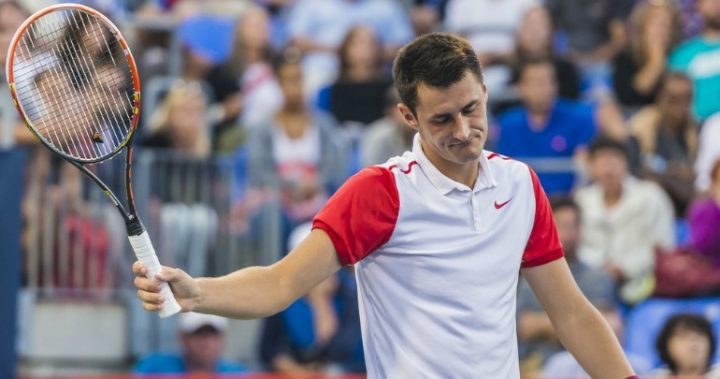 Anyone irritated by Bernard Tomic's poor sportsmanship at Wimbledon should look away now, because the Aussie tennis player just got a whole lot more annoying.
Far from cowed by criticism over his actions at the prestigious sporting event – where he lost in the first round before admitting that he was "bored" by the game and that he'd faked an injury to get out of the game – Tomic has fired up again, saying that he didn't care whether anyone "liked" him.
Speaking to the Sunday Herald Sun, the player said, "You probably don't like me but, at only 24, you guys can only dream about having what I have at 24″.
"End of the day, don't like me or whatever. Just go back dreaming about your dream car or house while I go buy them," he added.
It was in line with his comments after throwing the Wimbledon match against Germany's Mischa Zverev (which he lost in straight sets), when he said, "I felt a little bit bored out there", before adding that holding a trophy or doing well didn't satisfy him any more.
Ad. Article continues below.
"I couldn't care less if I make a fourth-round US Open or I lose first round," he added. "To me, everything is the same. I'm going to play another 10 years, and I know after my career I won't have to work again."
Tomic copped a $20,000 fine for "unsportsmanlike conduct", one of the biggest fines ever levied at Wimbledon, for faking injury. It'll be taken from his prize money of $64,000, which he earned just by turning up to play. 
But that will make little dent in what his father, John Tomic, told the Sunday Herald Sun was career earnings of almost $7 million. 
Not that Tomic's dad was making light of his son's behaviour. He told the newspaper that he was ashamed by the way his son was "approaching his business". But "he's my son, I love him", John Tomic added.
What do you think of Bernard Tomic's behaviour?