How Bruce Springsteen's music helped a young boy to read and write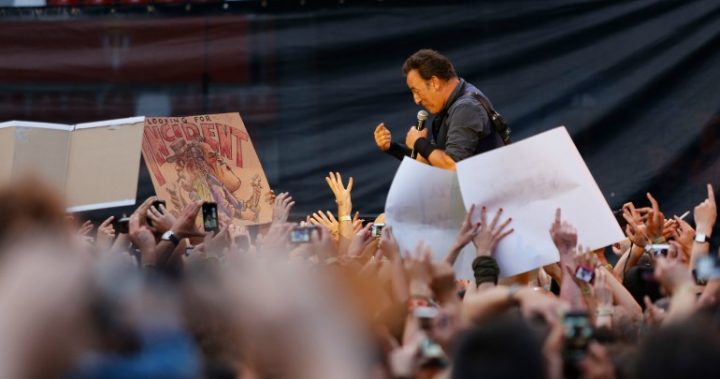 Bruce Springsteen made a few hearts flutter when he performed in Brisbane on Valentine's Day, but for one teenage boy, it was so much more.
It was the dream of a lifetime when 13-year-old Adam Brooker got to meet the Boss himself after writing a letter, with the help of his mother. 
Adam has a severe intellectual disability and actually learned to read and write by listening to Bruce Springsteen music.
After posting the letter online and doing everything they could to spread the word, Adam got to meet the man in person, ahead of the concert.
Adam's mum J'aimee Brooker told The Courier Mail the meeting went for almost 10 minutes and included a backstage tour.
Ad. Article continues below.
"He and Adam had a quick chat, handshake and a hug which was heartwarming to say the least," Ms Brooker said.
…so, this happened! A massive thank you to Bruce, the ESB, Kevin Buell, Barbara, and all of the crew. Adam cannot stop smiling! pic.twitter.com/liEKFciVpA

— Adam Brooker (@AdamMeetTheBoss) February 14, 2017
Ad. Article continues below.
This is part of the letter Adam sent.
Dear Bruce,
My name is Adam Brooker, I am 13 years old and I live in Brisbane.
I have been listening to your music since I was about four years old (but really I've been listening since before I was born because my Mum and Dad went to one of your concerts when Mum was pregnant with me!). I listen to you every single day: sometimes on my iPad, sometimes on a CD or DVD, and now I can listen to your records because my Grandma and Pop gave me a record player for Christmas and Pop gave me his original Born in the USA album that he has had since 1984.
My Mum has been working hard to find a way to contact you to tell you how much you have helped me and lots of people on the internet have helped her. She wrote this letter for me because I can't do it myself but these are all my words. My Mum homeschools me now so I don't have to go to school. School was hard because I couldn't talk properly and when I did talk most of the kids laughed at how I sounded and most of the kids and teachers couldn't understand what I was saying. But I couldn't talk at all until Mum taught me to sing along with your songs. I got to learn how to say words by singing to your music and even though I wish I could talk better I am happy that my family understands me.
Ad. Article continues below.
The reason I listen to your music is because it makes me feel so happy. Sometimes I don't feel very happy and I listen to your music because it helps me remember to be happy again.
 
Read the full letter here: Adam Brooker
What do you think of this amazing story?