Dopey dog steals the show at Crufts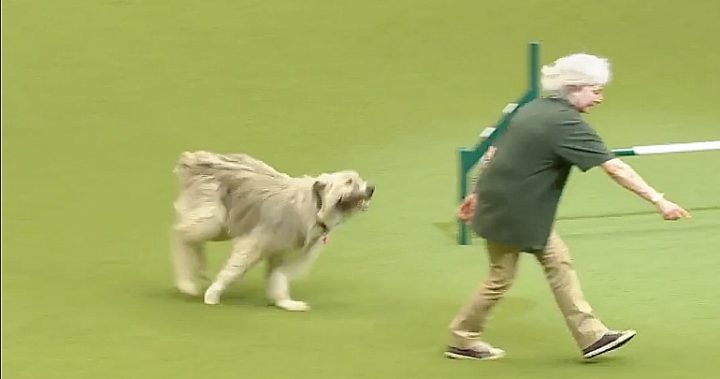 Every year hundreds of dogs and their handlers line up at Crufts to show off their pedigree and training, and while it's serious business for many, one playful pooch couldn't help but let all the excitement get to him on Friday.
Kratu and his owner competed in the agility course at the prestigious English dog show, and despite months of preparations, things went a little pear shaped when the playful pup entered the arena.
Much to the audience's delight, Kratu seemed far more interested in having fun and stopping by the volunteers for pats than actually completing the tough course.
He left commentator Peter Purves in hysterics, with the esteemed Crufts presenter laughing good-naturedly all the way through the show.
Ad. Article continues below.
While Kratu might need to work on his agility and obedience training, he has far more important work to focus on in his everyday life. Kratu is an emotional support dog for his owner Tessa Eagle Swan, who was diagnosed with autism last year.
Tessa told the Ealing Times that Kratu, who's a Romanian Mioritic-Carpathian sheepdog mix, has brought joy to her life and made social interactions much easier since coming to live with her.
"I had a big lack of confidence and self-esteem," she said of her life before Kratu. "But if I wake up with night terrors he's there by my side.
"He's the first face I see in the morning. He's so happy, he's full of love, he brings great joy to many people who meet him. He's a great character, full of life."
It looks like plenty of Crufts fans agree with Tessa. Thousands of taken to social media to comment on the performance, with many calling the dopey pooch a "delight".
Ad. Article continues below.
"Love him! He's really enjoyed that – looks like the handler is used to needing a good sense of humour Well done to them both – lovely to watch!" wrote one fan.
"The outright winner in my eyes….just for being gorgeous and mad," added another.
Kratu isn't the only dog who's had a little trouble with the agility course at Crufts. Last year, rescue dog Olly stole the show when he got way too excited to maintain any semblance of concentration.
The Jack Russell Terrier had commentators in stitches as he raced wildly around the track, ignoring his trainer and zig-zagging through the obstacles.
While he didn't win any prizes for his performance, just like Kratu, he certainly won hearts!
What did you think of Kratu's performance? Did it put a smile on your face?