The moment Bert Newton realises he has a bit of competition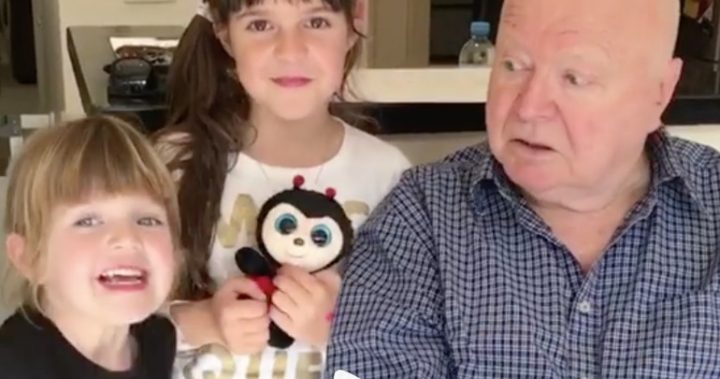 There's no denying the Newton family are made to entertain, with Bert and Patti long cemented as the King and Queen of Australian show business, and their children Matthew and Lauren following closely in their famous parents' footsteps.
And it looks like the showbiz gene runs strongly, with a recent video showing funnyman Bert being completely upstaged by his adorable granddaughters in a mini singing contest at home!
The video, uploaded by Patti, shows Newton sitting on a chair with his granddaughters Eva and Lola by his side. Patti is filming, and they're asking Newton for a rendition of 'Lavender's Blue'.
Read more: Bert Newton shows of post-facial glow in happy family snap
Always the entertainer, Newton happily obliges, announcing, "Here is the original Burl Ives rendition", and starts to sing. 
Ad. Article continues below.
"Lavender blue, dilly dilly, lavender green, if I …"
At this point, Patti interjects, saying "Nah, we don't want that one, come on you sing the other one, girls."
As the girls starts singing the classic nursery rhyme – very beautifully we might add – Newton looks very dramatically surprised, causing them to burst out into fits of giggles. 
"Sorry Burl", he said. 
Ad. Article continues below.
If that performance is anything to go by, it looks like there might be a third generation of Newton Aussie entertainers to come! Either way, it's clear that Bert and Patti love spending time with their grandchildren. 
What do you think, isn't this lovely?