'I was very crook': Former PM Bob Hawke reveals near-death experience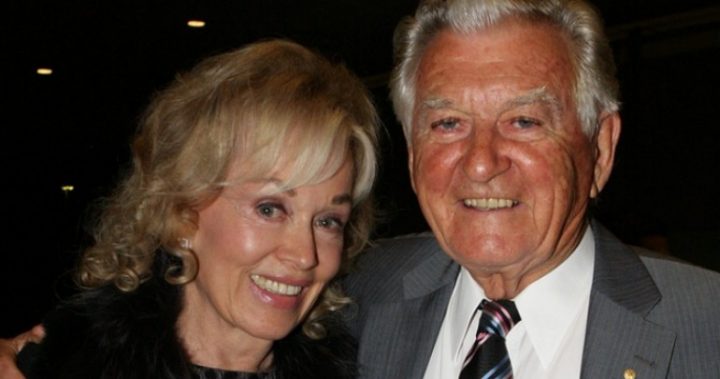 He's one of Australia's oldest living former prime ministers, but Bob Hawke has revealed that he came close to dying in 2015. In an interview to be published in tomorrow's Weekend Australia magazine, the 87-year-old suggested that a health condition nearly took his life two years ago.
The former politician is yet to disclose what the mystery illness is, but said it almost killed him.
"Yeah, I was very crook," he said. "They tell me I could have been on the way."
It would be a very sad day in Australia, given that Hawke remains one of the most popular prime ministers to date. His wife, Blanche d'Alpuget, also spoke about nearly losing her husband in the interview.
"He was just so close to death," she said. "It was awful."
Ad. Article continues below.
The upcoming interview in Weekend Australia will also reveal Ms d'Alpuget's own struggles with mental health and her suicidal thoughts following her affair with Hawke.
Read more: Bob Hawke says he would want to be euthanised if he loses his "marbles"
Just last year, Hawke spoke about assisted dying, saying it's "absurd that euthanasia is not legal in this country". 
"I have an understanding with Blanche that something I could not stand would be to lose my marbles," Hawke said in the 2016 appearance on Andrew Denton's "Better Off Dead" podcast. 
"If that were in fact to happen then something is done about [it] … I don't expect it to be a pillow pressed exuberantly over my nose, but I'm sure that something could be arranged with the family doctor."
Ad. Article continues below.
Read more: Blanche d'Alpuget reveals what she really thought of Bob Hawke when they first met
During his time as Australia's prime minister from 1983 to 1991, Hawke received the highest-ever approval rating at 75 per cent. Kevin Rudd is the only other PM in recent times who has come close to achieving the same status. 
Hawke famously set a world record for drinking a yard of beer during his studies back in 1955, and even went as far as suggesting that this contributed to his political success more than anything else he had ever done.
The illness that nearly killed him is expected to be revealed in tomorrow's Weekend Australian.
Are you a fan of Bob Hawke? Does his story about nearly dying shock you?