Blanche d'Alpuget reveals what she really thought of Bob Hawke when they first met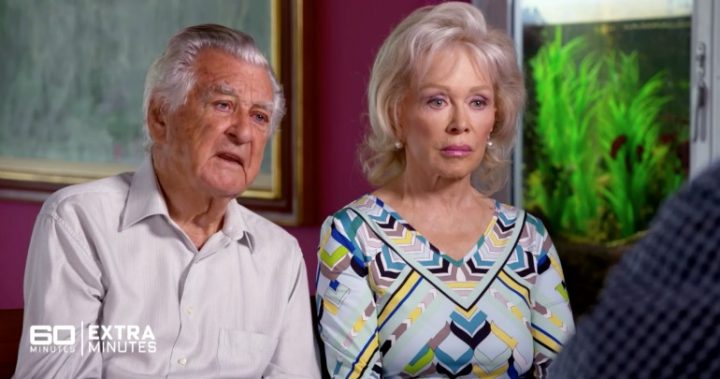 Their romance became known as one of the biggest political scandals in Australian history, but it appears former prime minister Bob Hawke and Blanche d'Alpuget are still as in love as ever.
The pair sat down with 60 Minutes last night for a follow up to their famously controversial 1995 interview with reporter Roger Woolley.
Last night, Woolley asked some tough questions again, but none as uncomfortable as his opening line all those years ago, when he asked the couple, "when did the sex begin?".
The interview outraged the country and their was huge backlash against the pair.
Last night, they talked about how they've handled everything over the years, with Blanche saying she was disappointed people just viewed her as 'the mistress'.
Ad. Article continues below.
"I had no idea who he was," she said of their first meeting.
"But we sat down together on one of those swinging chairs and talked for about two hours.
"He was such an interesting man. and he was just of very good character. I perceived that immediately.
"The fact that I was a writer and an international career out of the picture was simply airbrushed and I was portrayed as Bob's much-younger trophy wife."
Bob is regarded by many as our most beloved ex prime minister and when asked about his views on today's pollies, in particular Pauline Hanson, he didn't mince his words.
Ad. Article continues below.
"What I can never accept from Hanson or anyone…is trying to say that the quality of a person and how a person is to be regarded is in ANY way to be related to their nationality, the colour of their skin, their sex, or their religion – or lack of," he said.
Many still seem to be divided over whether or not they support the couple, with some saying they could never forgive him for leaving his ex-wife Hazel and subjecting her to such a public display of love for his new bride.
Others say said to let bygones be bygones and be happy Bob and Blanche have found love together.
Did you watch last night? Do you remember when it all unfolded all those years ago? What were your thoughts then?