Blanche d'Alpuget reveals struggles of love-affair with Bob Hawke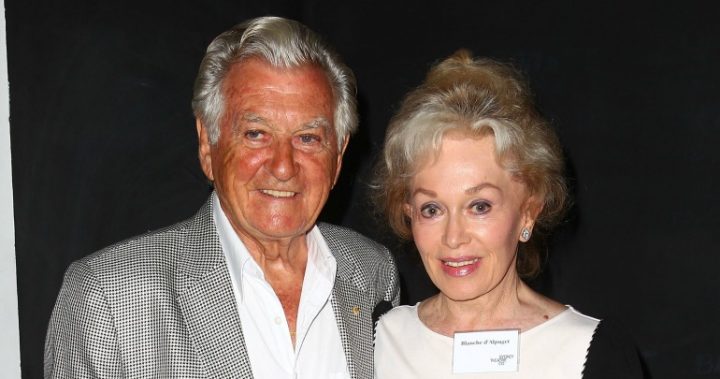 It remains one of the most talked-about love affairs in Australia's political history and Blanche d'Alpuget is finally opening up about her marriage to Bob Hawke.
In today's The Weekend Australian Magazine, d'Alpuget discussed the impact that her relationship with Australia's most popular PM had on her.
Back in the 70s, Hawke was married to Hazel but started seeing d'Alpuget at the same time.
It was quite the scandal with the 73-year-old admitting that neither her or Hazel wanted to end their relationship with the PM.
"Each of us asked the other to leave," she told The Weekend Australian Magazine. "Neither of us did."
Ad. Article continues below.
For some time, Hawke tried working through his marriage to Hazel and ended up ignoring d'Alpuget.
She said it took an emotional toll on her: "I went through that dark night of the soul when we broke up. And I came out the other side. I got over it. And then I really flung myself into writing, which is one of the great curative and healing processes."
The writer even went as far to say that she contemplated suicide and thought of ways she could kill her lover. At point she even thought about stabbing him in the heart.
Eventually, Hawke left his wife and ended up marrying d'Alpuget. She acknowledges that it had a huge impact on her husband's reputation.
"It took an enormous amount of courage on Bob's part," she said.
Ad. Article continues below.
"It took much more courage on his part than on mine. Because I was a single woman, divorced. But he was married. The whole country expected him to behave in this way and was unaware of what his true feelings were and so were bound to be shocked, angered and amazed when they discovered them. And they were [angered] and they expressed it, and still do, unfortunately."
She did admit that she thought Hawke leaving Hazel was the best thing for her, describing their divorce as a "win-win-win" situation. 
Still, the pair haven't let the hate from the public get in the way of their love.
Just two years ago, Hawke nearly died of an awful bug he picked up from the Middle East. Nearly on his deathbed, his wife never left his side.
Read more: 'I was very crook': Former PM Bob Hawke reveals near-death experience
Of the love his wife showed him, Hawke explained: "She was absolutely fantastic … The love of a good woman can do that for a bloke."
Do you think Bob Hawke did the right thing in leaving Hazel for Blanche? What do you think of her comments?