Barry Humphries' son hits out over dad's will snub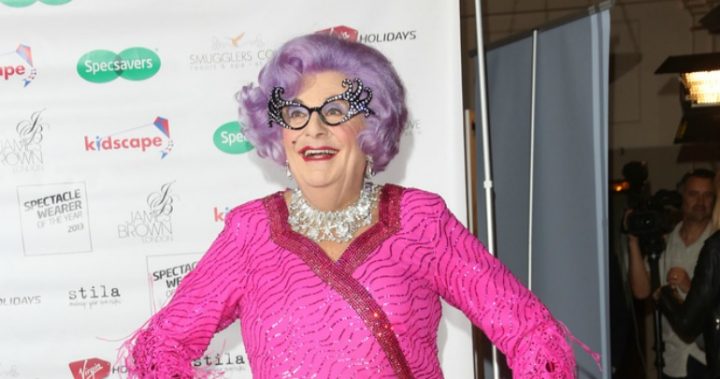 Trouble is brewing in the Humphries household after it was revealed Barry Humphries, beloved for his alter ego Dame Edna Everage, disinherited his son Oscar. 
The 83-year-old comedian has allegedly told his son Oscar, 36, that he would be cut off during the younger Humphries' engagement party to blonde art lover Sophie Oakley, 36. 
Oakley it the daughter of famous explorer Tim Oakley. 
In retaliation for being publicly cut off, fine-art dealer and journalist Oscar took to social media to air his grievances: "Changing my name. F*** you for disinheriting me," the post allegedly read. 
Embed from Getty Images
In happier time, above, Humphries beamed sandwiched between sons Oscar (L) and Rupert (R). 
Ad. Article continues below.
The foul-mouthed post has since been taken down but apparently, Oscar wasn't done and tried to explain why he went ahead and changed his name on his Facebook account from Oscar Humphries to Oscar Valentine – Valentine is his second name. 
The Daily Mail reported that Valentine wrote of the name change: "New name. I never wanted the little bit of money anyway. Liberating after the shock. The feeling is, 'Well, I'll do it myself'."
In the past Humphries son, whom he had with the artist Diane Millstead, struggled with drug and alcohol addictions – he also had an affair when he was 22 with 35-year-old married Jimmy Choo tycoon Tamara Mellon. 
He was allegedly told of his father's decision during his engagement party celebration. 
"They let me know twice: once at lunch and once at my engagement party," said Valentine, The Daily Mail reported. 
Have you cut any of your children off?