10 of the most scenic toilets from around the world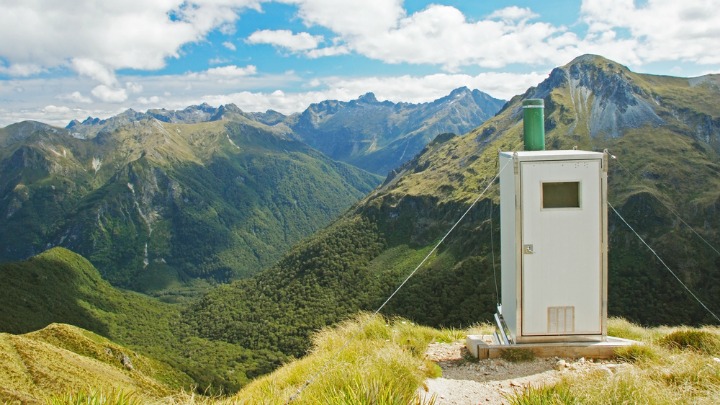 Loo stops can be a bit of a nightmare on the road, especially when you find yourself absolutely busting without a toilet, dunny or outhouse in sight. But just because you're in the middle of nowhere doesn't mean you have to go au natural, there are some scenic toilets around the world that you'd be more than happy to sit down on, no matter how cold the toilet seat. Here's a list of loos with some incredible views from around the country and the world.
Read more: 10 things to do with your unwanted hotel toiletries
1. Wiwannihütte, Switzerland
Ad. Article continues below.
A great starting point for climbers and hikers, Wiwannihütte is also home to one of the most scenic toilet in the world. Just imaging peeking out at those mountains when nature calls.
2. Alpine Ranges, Australia
Ad. Article continues below.
For something a little closer to home, there are the Alpine Ranges in Victoria. If you find yourself trekking through Gippsland, then don't forget to take a seat on this loo with a view while you're there.
3. Mount Pisa, New Zealand
Ad. Article continues below.
The toilet seat might get a bit cold on this one, but just imagine the view of the surrounding mountains. Definitely worth a few seconds of discomfort.
4. Dolomites, Italy
Ad. Article continues below.
How could anyone resist a high altitude piddle when the view is as majestic as this. You might just want to leave the door open for this one.
5. Kepler Track, New Zealand
Ad. Article continues below.
If you're not put off by a steep drop off the side of the mountain, then this is a great spot to have a stop at. If you're afraid of heights, then you might want to make sure it's a quick one.
6. Carrie Bow Cay, Belize
Ad. Article continues below.
Sometimes nature calls in the most unexpected of places. But that won't be a problem if you find yourself walking along this jetty in Belize. There is an outhouse right at the end, and just get a load of that view.
7. Banff, Canada
Ad. Article continues below.
This shot was taken along the Trans-Canada Highway, which passes through each of the 10 Canadian provinces. This has got to be one of the most scenic loos with a view along the whole 8,000km route.
8. Ross Ice Shelf, Antarctica
Ad. Article continues below.
The lack of privacy and ice-cold loo seat might be enough to scare many away from this scenic toilet. But if it's any consolation, there is the view of Mount Erebus to take your mind off the cold.
9. Ama Dablam, Nepal
Ad. Article continues below.
A hike through Nepal just wouldn't be the same without some interesting toilet experiences, but get a load of this outhouse, right amongst the mountains on a trek to Everest Basecamp.
10. Mt Kilimanjaro, Tanzania
Ad. Article continues below.
A trip to the loo will never be the same after having visiting this toilet at the base of Mount Kilimanjaro, that's for sure.
Where is the most scenic toilet you've ever visited? Have you been to any of these locations? Let us know in the comments section below.