Anger over 'coffin swapping' claim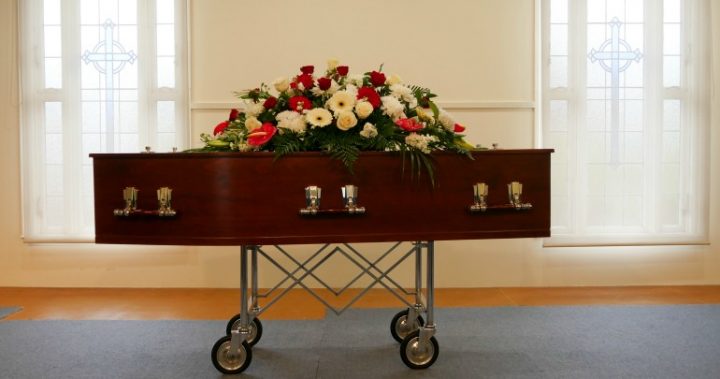 A Queensland family has accused a funeral home of swapping their grandmother's expensive oak coffin for a cheaper version for her cremation. Janice Valigura, 74, died on New Year's Eve and was laid to rest in Rockhapmton on Monday.
Her family told the ABC a mourner at the funeral noticed Janice's silky oak coffin looked different when they arrived at the crematorium. The family confronted the undertaker but were told swapping the expensive coffin for a cheaper version was "common practice".
Police are now investigating the matter and told the ABC it was "shocking" and "unusual".
While the undertaker in question appeared not to see any issue with the coffin swap, Queensland Funeral Directors Association president Anton Brown said it was "disgraceful". It's worrying news for the thousands of Australians who have already planned their funeral and spent thousands of dollars on expensive coffins.
Comparison site Finder recently surveyed more than 2,000 people of all ages and found that 40 per cent have already planned their funeral so as not to burden their families. Funerals in Australia can cost anywhere between $4,000 for a basic cremation to around $15,000 for a more elaborate casket, burial and flowers.
Ad. Article continues below.
The incident in Rockhampton has sparked calls for a review into the funeral industry to make practices more uniform across the country.
"We would certainly like to see some strengthening and uniformity across the country so that everybody is on the same page, has the correct facilities and properly trained staff," Australian Funeral Directors Association (AFDA) spokesman Darryn Eddy told ABC Radio Brisbane. "It hasn't really been a high priority because [governments] look at the amount of complaints each year and there's not a huge amount of complaints made to Fair Trading and government health departments."
Funeral trends changing
Funerals have changed significantly over the years, with many people opting for alternative services and cremation options. One of the most forward-thinking countries is Japan, which has introduced 'drive through' funerals for a quick and speedy service where mourners don't even have to get out of the car to pay their respects.
Technology has also entered the field with many families live streaming the service over Skype or social media for family members and friends who couldn't make it on the day. Alternative uses for ashes are also taking off, with popular ideas including encasing the ashes in glass, turning them into jewellery or shooting them into the sky with fireworks.
Do you plan on organising your funeral before you die?
Important information: The information provided on this website is of a general nature and for information purposes only. It does not take into account your objectives, financial situation or needs. It is not financial product advice and must not be relied upon as such. Before making any financial decision you should determine whether the information is appropriate in terms of your particular circumstances and seek advice from an independent licensed financial services professional.