Top 3 pros of an air fryer
1. A cost-effective alternative
As the cost of living continues to skyrocket, if you're looking for extra ways to save money on your grocery and energy bill, then you should consider an air fryer.
Due to the fact that they're smaller and faster than an oven, cooking with an air fryer results in a fraction of the cost in energy usage.
Australian consumer advocacy group CHOICE, states that running an air fryer three times a week for 30 minutes at 200°C can result in an average cost of between $9 and $51 per year, depending on the size and model of the air fryer.
2. Convenient for reheating foods and cooking frozen foods
Not only are air fryers convenient in saving you time, pre-heating faster than an oven and cooking your food just as quickly, but these kitchen gadgets can also make any frozen food taste as if you've just ordered from your favourite takeaway.
And to top that off, any leftovers you have like pizza, hot chips or pie will be deliciously crunchy again, as opposed to the soggy alternative of the microwave.
3. No shortage of recipe options
From the sweet to the savoury, with the appliance's wild popularity, you'll be able to find hacks and recipes for just about everything.
You name it and it's almost a guarantee someone has successfully cooked it in an air fryer.
Top 3 cons of an air fryer
1. Bulky design takes up bench space
Despite all their benefits, something to weigh up when you're considering purchasing an air fryer is whether you have the space for one.
Even if you resort to a smaller design, they're still yet another appliance adding to the clutter on a benchtop or taking up a whole section in your cupboard.
2. Small interior capacity 
While it seems as though air fryers don't have any limitations, they in fact do.
Air fryers don't usually hold the capacity to cook multiple items at once, and overcrowding your food with lead to uneven cooking.
Even if you decide on a model with multiple baskets, keep in mind that the items will need to be cooked at the same temperature.
3. Cleaning
Unlike an oven, air fryers will need to be cleaned after every use, and sometimes in the middle of cooking your food.
For example, if you're cooking anything with glaze, you may need to pause the cooking to clean up the basket in order to avoid the dripped glaze smoking and burning.
When you're finished cooking, cleaning consists of the fryer basket, the pan, the heating element, and possibly the outside of the appliance.
Which Air Fryer should you buy?
Magic Bullet Air Fryer
If you're uncertain if you want to commit to one of the larger air fryers, or you're feeding a smaller family, you should consider the budget-friendly Magic Bullet Air Fryer.
 

View this post on Instagram

 
This 2.5L capacity appliance is perfect for those wanting to dip their toe into the world of air frying, or just doing small batches at once.
You can buy this simply designed gadget for $104 and is known for being easy to clean and use, and its sleek appearance means it's not an eyesore on your bench.
Kitchen Couture Digital Air Fryer
If you're an entertainer, often cooking for large crowds but wanting to keep your purchase budget-friendly, then the Kitchen Couture Digital Air Fryer is a great option.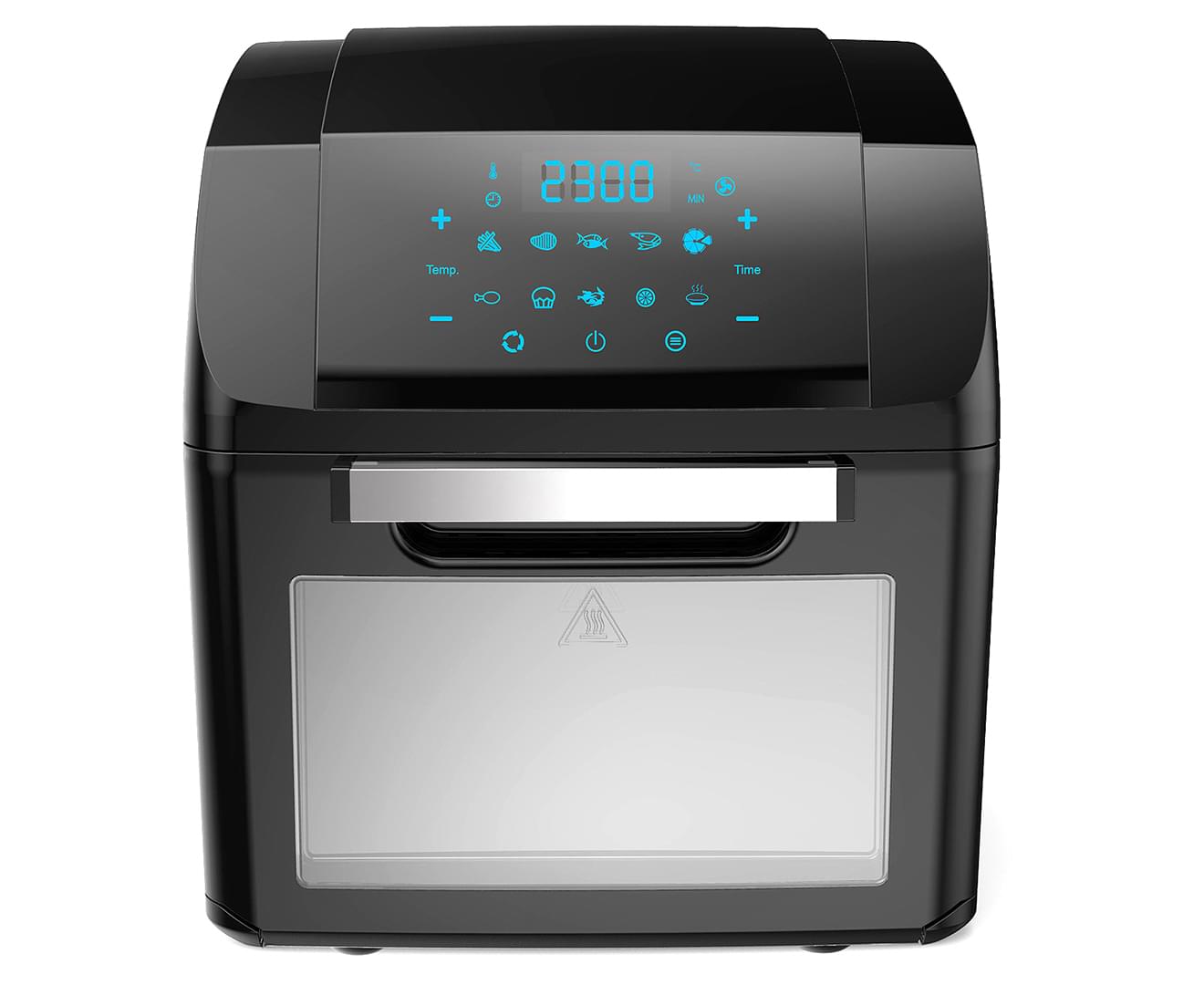 With a 14L capacity and 10 cooking presents, this appliance is air frying goals.
For only $139.95, this air fryer comes with a number of accessories including an oil tray, rotating cage, rotisserie fork, and cage tong.
Ninja Dual Zone Air Fryer
Perhaps one of the ultimate air fryers on the Australian market is the Ninja Dual Zone Air Fryer, offering the convenience of two air fryers in one, cooking has never been easier with this appliance.
 

View this post on Instagram

 
Priced at $299, this convenient air fryer has a 7.6L capacity with adjustable heat settings for each basket with digital controls.
Although it's not small in size, the appliance's grey finish will make it a nice addition to your benchtop.